On a cold January day in Brighton, UK, I met for a coffee with the owner of  ContentKing to learn about his company's SEO audit tool and to see if  I was missing out. I admired Steven's visions for what ContentKing (contentkingapp.com) can do for SEOs and wondered how it was different from SEMrush (full tutorial inside) which I have been using for many years.
As with most SEOs and business owners, I am also cautious of getting too many tools onboard and letting my overheads build up. To my delight I saw how valuable this tool could be for my SEO business.
What the owner, Steven Van Vessum says the tool is for (in a nutshell)
Monitoring websites to keep track of changes clients, or colleagues are making.
Real-time auditing of websites to keep track of issues, in general and especially after updates have been pushed.
Fixing broken and redirected links
Get details on title tags and meta description issues so you can improve rankings and CTR by filling in and tweaking title and meta descriptions on your site
Improving their visibility and engagement on social by filling in and tweaking Open Graph and Twitter Card markup.
Fixing technical SEO issues regarding crawl budget, wrong canonicalization etc.
Sales processes: as soon as you're on to a prospect, put their site in ContentKing and check what's happening in their site during the sales process. At a minimum you'll see how their site is doing, at best you catch some really interesting stuff go wrong and instantly win the contract
What does ContentKing allow you to do as an SEO?
Save lots of time: you never have to wait for crawls to roll in. You always have an up-to-date ToDo list. And we provide information rather than data. Our insights are actionable, we don't require you to make 10 excel export which you have to piece together later on. A good example of this are for instance our tests regarding the XML Sitemap: we know what pages are accessible on your website, and if they are indexable. We cross-reference this with your XML sitemap to see if there's any issues.
Prevent nasty SEO surprises, because we monitor websites we always know what's going on.
Track what's changing within pages, such as title, meta descriptions, headings, canonicals, meta robots, Open Graph and Twitter Card data. You can do this at the moment on a page by page level, but

within 2 weeks

we expect to launch functionality to do this across your entire website too. Very useful for reporting.
ContentKing Dashboard
ContentKing's dashboard simply gives you an overview of the website health (a points system of how healthy your site is) and a number for how many pages the tool has found on your domain. You can gauge how your health score is progressing as you make changes.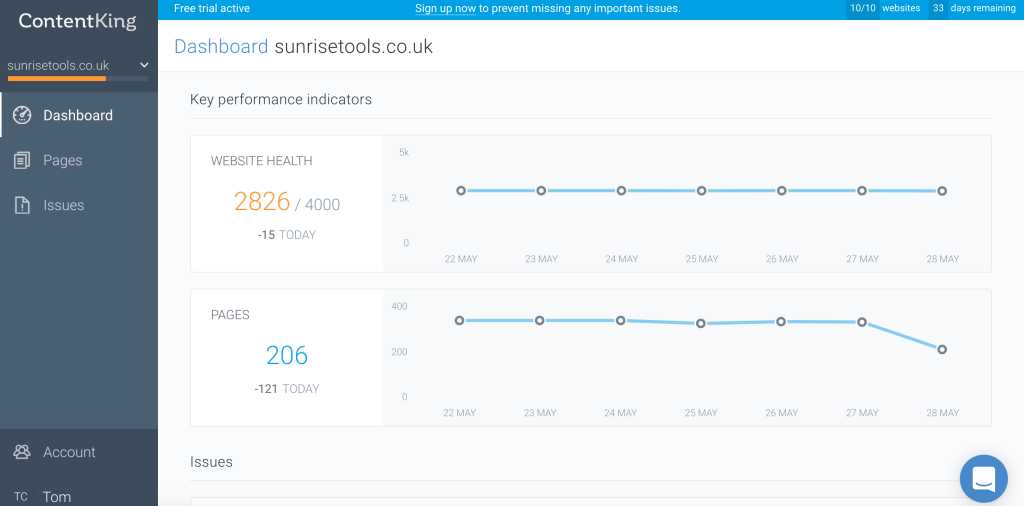 Pages
There is also links in the lefthand side navigation for 'pages' and 'issues'.
Pages will take you to an area that looks like this. You can filter through the pages of your site and benefit from the same functionality Screaming Frog offers, without your computer crashing on you!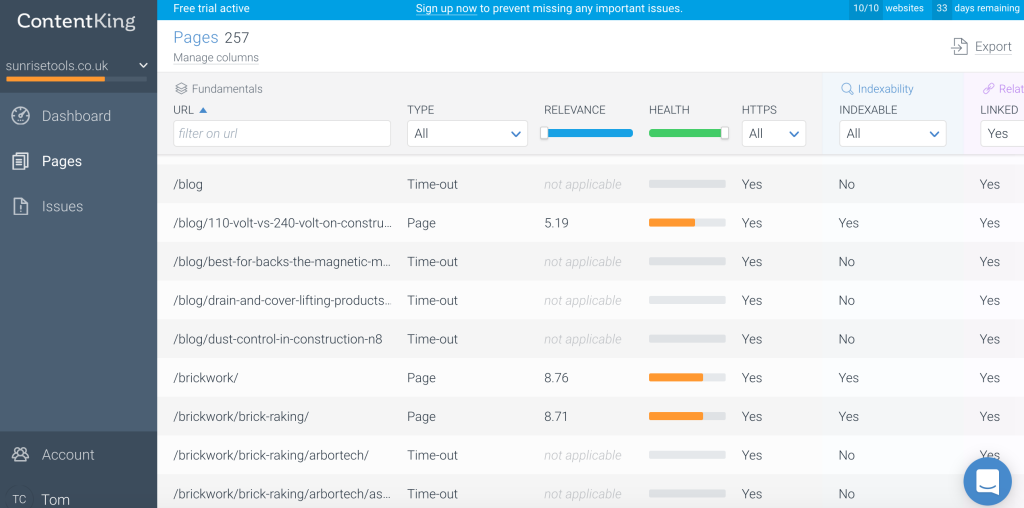 Issues
Issues will take you to an area that looks like this…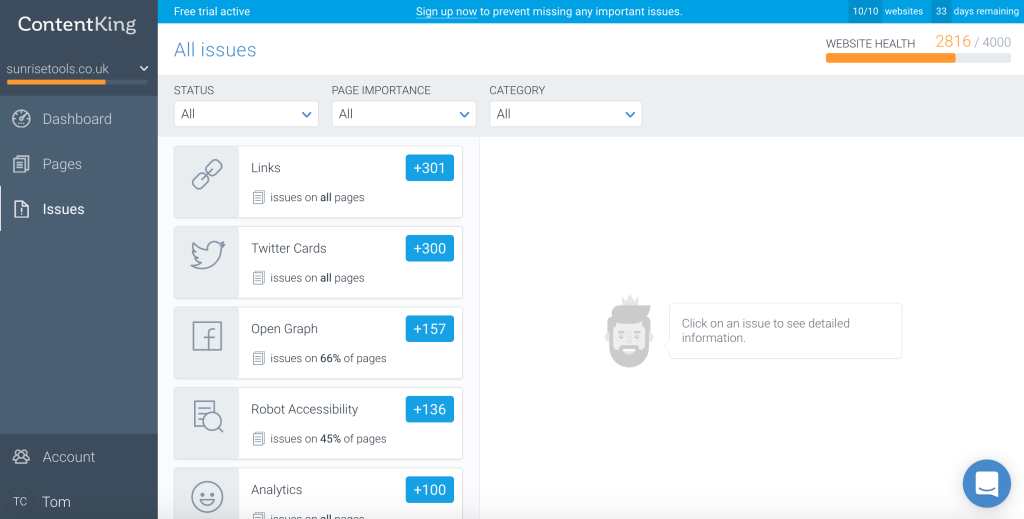 When canonical tags are used incorrectly it can lead to a big mess, which is more often than not, not found for ages. I see canonical tags being used in the wrong way on a weekly basis, leading to stunted organic performance.
ContentKing displays potential canonical tag issues in a really smart way that gives you that point in the right direction.
Knowing where there are canonical tags in place without having to manually check the site, is a massive time-saver. ContentKing shows you your pages using canonical tags so you can inspect the implementation and make a judgement on if this is correct. All of these pages listed in the 'canonical link prevents page from being indexed' section are pages including a non-self-referencing canonical tag.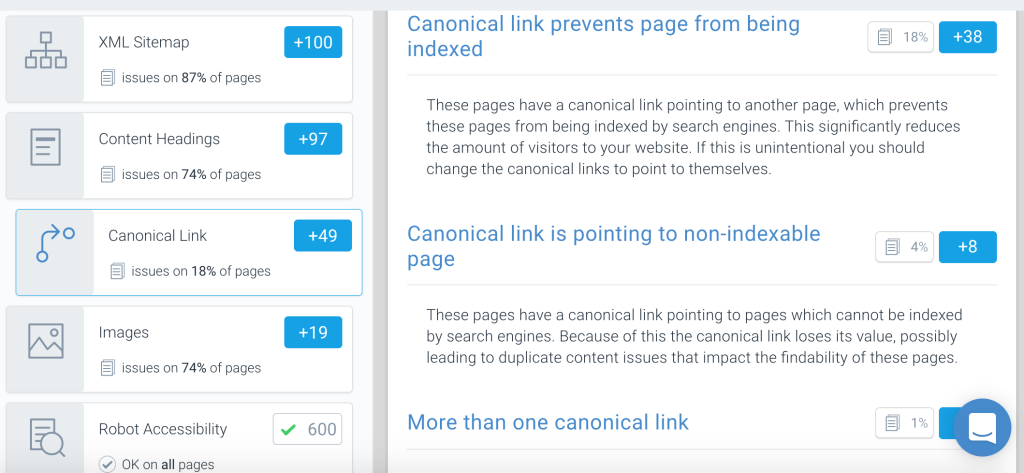 You can also find pages where there are two or more canonical tags in place. In the case below there are two in place – one to the http version of the page and one of the https version. This is clearly not good for your SEO and gives you the opportunity to report this and improve your client's performance.

You can see pages where the canonical tag is pointing a page that is not indexable. This can be huge if fix the issues.
Improving click through rates with optimised meta descriptions
Meta descriptions are like products in your shop window. They give a little taster to what the contents of this page may be about and so are really valuable areas to focus on. Once you have optimised title tags, the meta descriptions are a fantastic way to improve your click through rate (make more people click your link amongst the competitors).
ContentKing really clearly shows you when you have duplicate meta descriptions (come on, lazy) and when your meta descriptions are of the wrong length.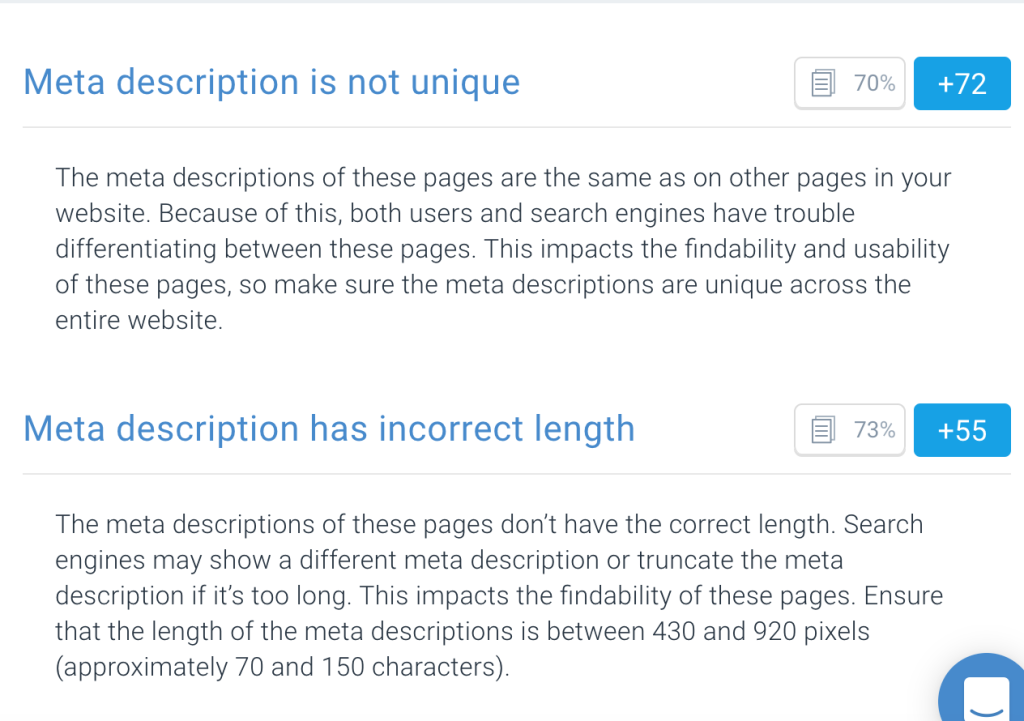 Fixing broken links and internal links to redirects
Often overlooked, internal links are really important in order to help Google crawl your site effectively and develop authority to certain pages.
If you are linking to pages that redirect to other pages, then you are giving Google hoops to jump through (they don't like hoops!).
With ContentKing you can quickly identify all of these pages and update the links to go directly to the destination.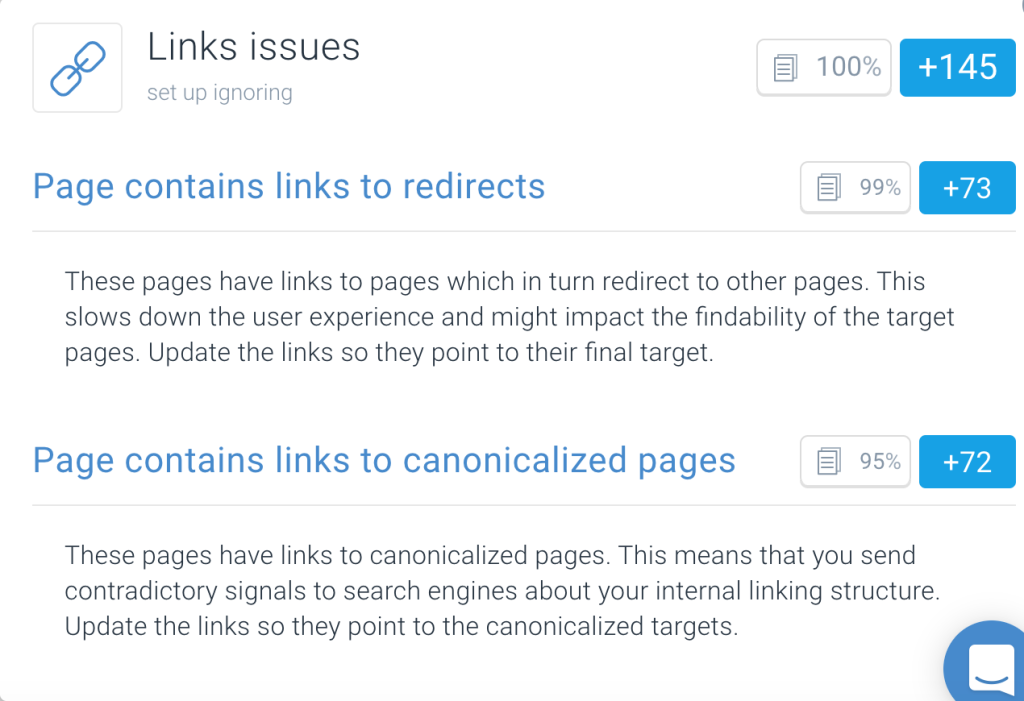 Also, if you link to pages that have canonical tags on them, you may choose to update the links to go directly the target page.
Page Detail –
Tracking changes that are being made on your website
If you have been doing SEO for a little while, you may have come across the issue of your client or the employees making changes without consulting with you. Sometimes this may only be that your client published a new blog post. In other times it can be that your client read your keyword research and somehow got it in their head that cramming a keyword on loads of pages was a good move.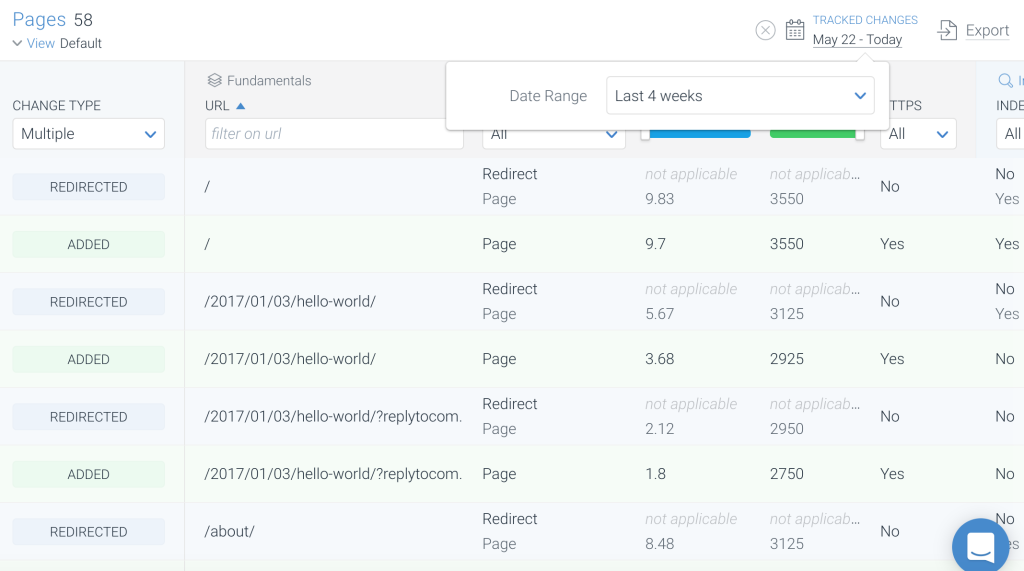 Knowing what changes have happened is really useful incase you need to undo certain changes.
Gamification in SEO
What ContentKing has really caught on to, is the fact that clients respond really well to signals of progress. As SEOs, we often show our key performance indicators through ranking reports and organic traffic. I also use rankings and organic traffic as ways to communicate progress and get clients excited and seeing the value of my services. As we know, SEO results in the form of ranking increases and organic traffic don't always come in at first – the very point where you need to make a great impression.
One issue we have though, is presenting the scale of onsite SEO issues our clients have and making this easily digestible for them. Clients are busy people, who more often than not find SEO confusing and in some cases, even questionable over whether it even works.
ContentKing has employed gamification into onsite SEO by allocating points to the onsite SEO issues the website has. By successfully resolving the issue, you get points. Fix all the issues and you have full points. This is a simple but effective way to get clients excited about the ground that is being made.

How I used ContentKing to Boost Rankings
One of my clients has been doing ongoing SEO with Convert Digital for over a year and has seen some impressive organic growth in this time.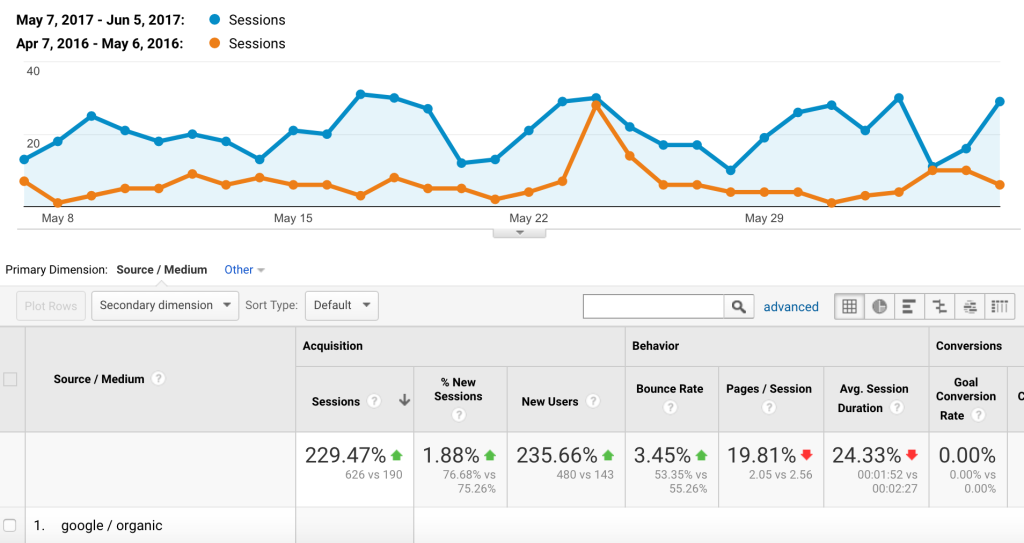 Despite this growth there was one keyword we just couldn't seem to crack. The keyword is the homepage's target term, and if secured, would mean a lot of business for our removal client.
Below is a snapshot of ranking positions for this target term over the past 30 days. On May 22nd the issues found in ContentKing were found and reported to the developer. Recommendations were implemented on May 22nd and the very next day this happened.

Position 5 for this powerful keyword is in actual fact position 2 (SEMrush counts 3 positions for Google my Business listings – annoying, I know!)
Below are the simple issues I picked up using ContentKing, all marked in the Google doc.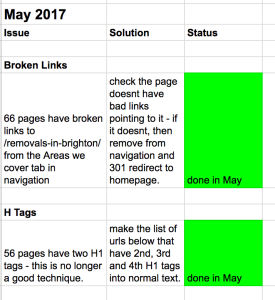 Thoughts from other ContentKing users 
ContentKing has given us insights we never would have picked up on otherwise.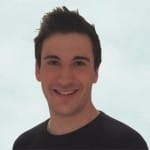 The real value in the tool for me is the continuous crawl, not only does it keep your PC's resources free, but it picks up on changes when they happen as Google would. Any serious e-commerce player will find value in the tool; as CK finds wormholes and bad URL paths which can cause indexation bloat you'd never find manually.
After our initial crawl it turned out our site was 10x bigger in page size than I thought, something we're now actively fixing!
Pete McAllister of Intelligent Car Leasing
---
Three quick examples of how ContentKing can win SEO.
Steven Mills – SEO Manager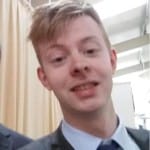 ContentKing has given me insights I never expected when I first picked up the software. I already use SEMrush & Ahrefs pretty much daily, so wasn't really sure there would be anything else I could glean from Content King. I was wrong.

PMC Telecom recently relaunched their website. As expected we had to ensure we have the best site possible – and we have a way to go before we are "proud" of our site, but in a short amount of time, and with the help of ContentKing we have managed to make some absolutely astounding progress.
That being said, we have to admire the progress made so far, and without ContentKing, I feel it would have taken SO much longer.

Three things so far have really stood out to me:
Do you really need constant crawling of your sites' content? This is a bit like going from an old fashioned phone to a smartphone. It's useful for efficient working, but it's even more useful for delegating work like a boss in real time (which as a digital marketing manager, I spend a lot of time doing). This works for everything within ContentKing.
Seeing results in work like I see them on a WoW character is something as a part time/ex gamer, I can resonate with. Who doesn't see SEO as a competition? We're trying to beat our competitors. I use this as a key motivator with all staff.
One staff member here has been updating content headings and meta information to ensure products have them in the most efficient way possible, and ensuring each is unique – I can track her progress by simply looking at ContentKing and the results are great! I do this with a few staff members over key points of improvements over our site. As our catalogue is so large, it really keeps track of improvements better than anything I have ever used – and export to CSV is a an absolute lifesaver.
With the export option, I can take a look at any aspect of my site, and get a working Google sheet/to do list in minutes and pass onto my team. I really appreciate the efficiency.
Performs better than any other software on a complex Ecommerce site – including Screaming Frog in my experience.
The biggest issue I had with the changeover was the complicated way in which products are put together, and the number of similar products.
Even though I set the URL rules up correct, and I had canonical rules in place, my sitemap wasn't right… in fact it was 98% wrong!
Using Screaming frog to respect canons, and various other tools, the crawlers kept getting stuck on 800,000 URLs. Nothing was working.
Content King was working on my site before I migrated to the new one, I think partly due to this I was lucky enough to use Content King to generate a sitemap which is now correct, and contains the correct URLs.
Pricing
ContentKing price their tool on the number of pages your website has. Interesting, right? So guys who want to use the tool for their simple <100 page site can pay proportionately.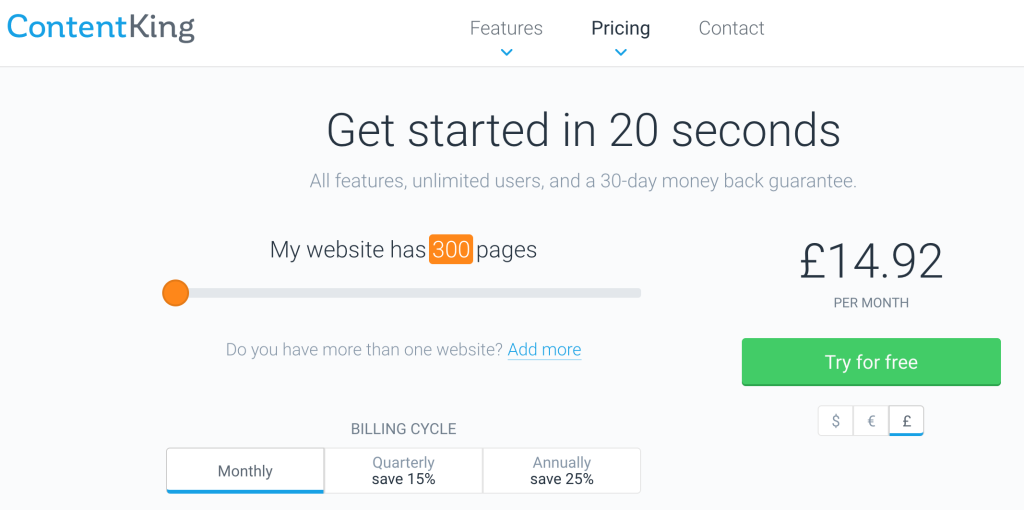 You can add more sites and see what the price will be…

Pricing for SEO agencies
ContentKing understand agencies have a very different need from the business owner with one or two sites. They offer agency packages that base the price on the combined number of pages all your clients have.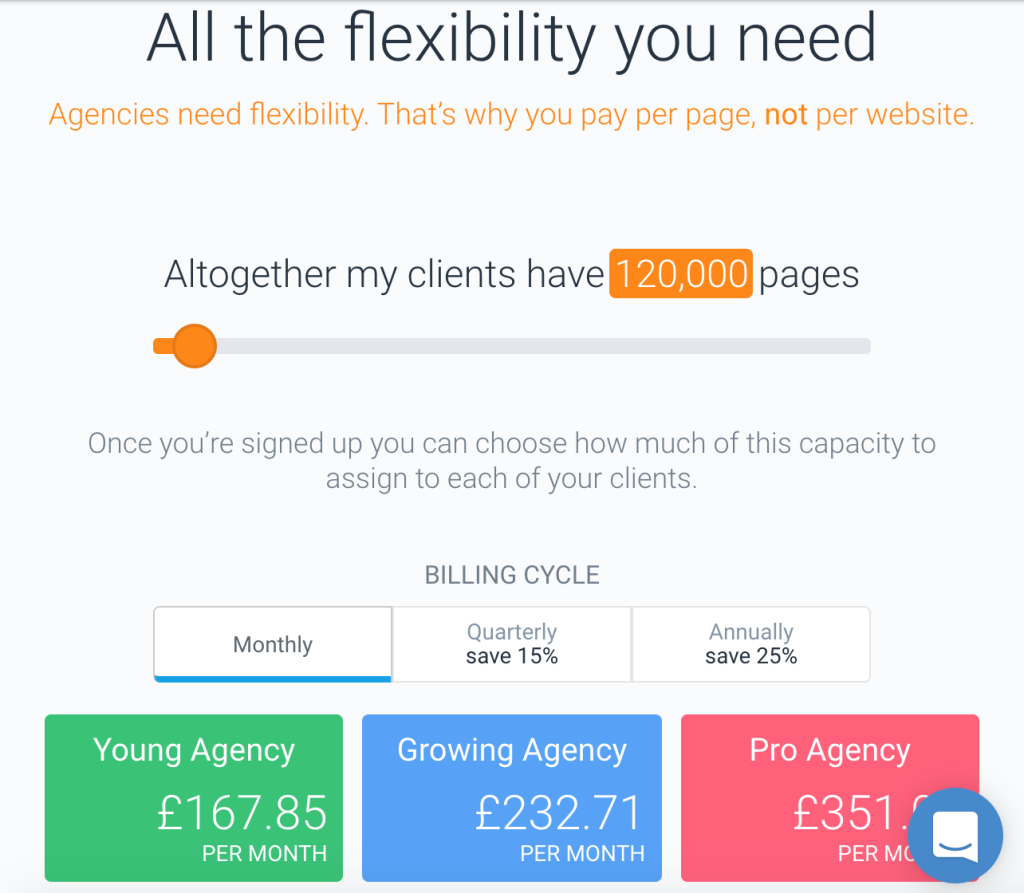 You can pick from the three options and benefit from a range of different levels of service.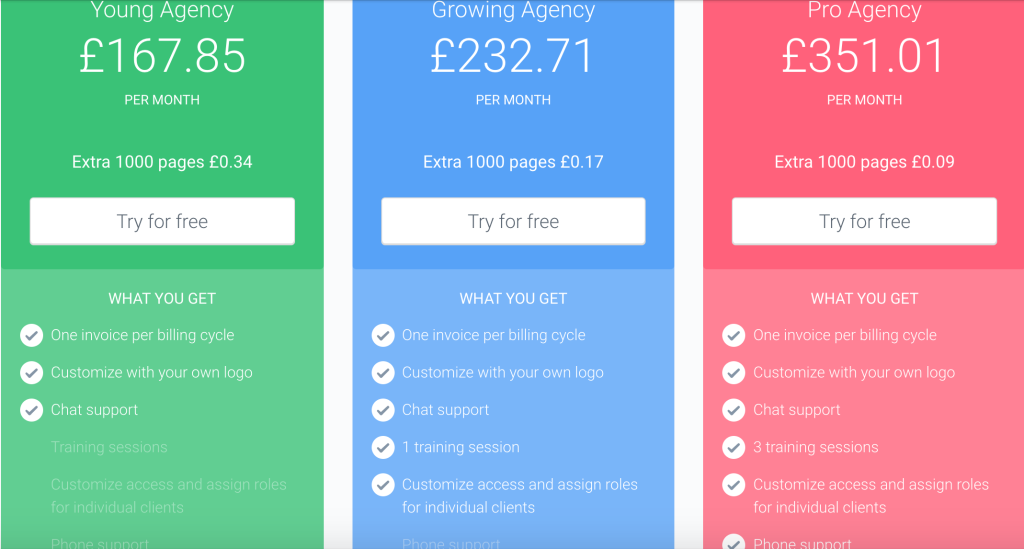 What updates have ContentKing got lined up?
Change Tracking on Pages (expected release June 2017)
Email reports
Support for hreflang
Support for pagination
Segmenting sections of your website (so you can for instance ignore a certain issue on all of the pages in the /blog/ folder)
WordPress plugin for pinging ContentKing about website changes.
Support for AMP
Alerts
API
If you want to see what all the fuss is about, then try ContentKing here.
---