Google Panda Recovery Service
Has your website experienced a decline in traffic, which is too great to have been superior competitor activity pushing you down the Google results? You may have been negatively impacted by a Google Panda update. I can relatively quickly identify when a site has experienced the impact of the algorithm taking a hold on your site and knocking your content to page 5 or beyond in the Google results.
How does a Negative Panda Update Look Like in Google Analytics
If you have Google Analytics installed, then diagnosis is easier for me. Sometimes webmasters believe that they have been hit by Panda, when in actual fact it is another Google update, which warrants a different recovery process.
In October (2014) I was approached by an Australian voucher code business, who were alarmed to have seen 50% of their organic traffic disappear in  the space of under a week. Quite often when a Panda update has negatively impacted a site, you will experience a decline of traffic over the period of a few days to a week.

Diagnosing a negative Panda update
Diagnosing if this is a Panda hit comes down to correlating the point in which the organic traffic declined, with dates published from the most trusted sources on the algorithm updates release dates (such as Moz.com's excellent algo update chart).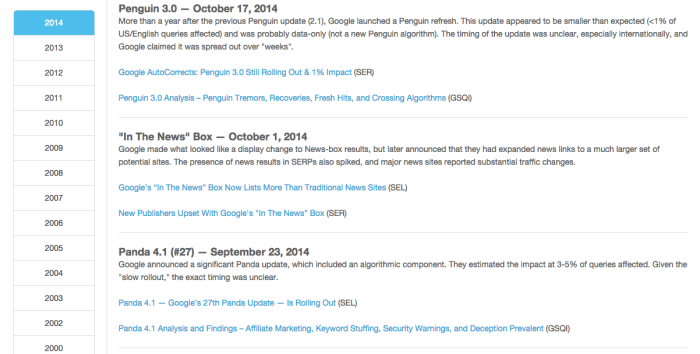 Of course, it is also very important to understand the situation from a human perspective and manually look into the state of the site to try and find tell tale signs of 'Panda Bait' – onsite content that is easy for the update to negatively act upon. As the two diagrams above show, it was very likely that this decline from 23rd September 2014 was due to the Panda 4.1 update. The closer I looked, the more obvious it became that the site had multiple issues that Panda 4.1 was designed to crack down on.  Some of the issues included the following:
Duplicate Content Issues
Duplicate Page Title Tags
Lightweight Content with No Real Substance
Too many On-page Links Per Page
Lots of Undiscovered Errors Such as 404s
When I did a thorough investigation I was able to report to the client on what he can do to recover from the negative impact. Within one day, the webmaster was able to make all the changes that I recommended and let the site sit and wait to be reanalysed and recover.
The Top Culprits of a Panda Hit
When doing Panda reviews I see patterns in the main culprits.  Commonly the issue is down to duplicate page title tags or duplicate content. When you run a growing site, there is a tendency to lose sight of how your website is comprised and that is when issues can form. Here are some classic examples:
Pages for different locations with too similar content. Service based businesses operating in multiple cities often create landing pages for each location and just change the location name in the text
Ecommerce sites with duplicate page titles on pages for different sizes and colours of products, with no cannonicalisation
WordPress sites with tags, categories and posts all indexed and cannibalising each other with the page title tag
Landing Page Overload – so many landing pages created to try and target specific keywords and phrases when there is already a page on the site that fulfils the same intent
Recovery and Rocketing in the SERPs in Panda 4.1
Whilst working with another client for the months leading up to the Panda Update, we addressed so many onsite issues that the site recovered from a previous Panda update and had a very positive impact with the 4.1 update.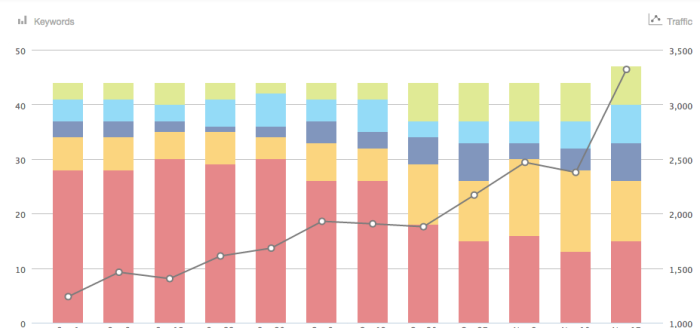 If you are unsure if you have been hit by a Panda update, then let us know and we will investigate for free and provide a quote for the recovery process. If you want to see a broader range of SEO services on offer then take a look here.