Overview
Rockett St George approached us in July 2019, with an interest in conducting an SEO audit, followed by ongoing SEO.
They had previously experienced significant drops in organic traffic over the years and various recoveries, but felt they had stagnated and had untapped potential.
Along the journey we saw a great improvement in both organic traffic and the revenue generated from this Google traffic.
Key Highlights
136% Increase in revenue when comparing November 2019 to November 2020.
168% Increase in revenue when comparing November 2018 to November 2020.
240% Increase in revenue when comparing March 2020 to March 2021.
2068 more keywords on page one of Google over a 21 month period.
SEO rankings results
As of April 2021, Rockett St George have 36,477 keywords in the first ten pages of Google UK (using SEMrush as the source). Out of these, 2,858 keywords are on page one of Google.

When comparing this to just before we began in June 2019, we can see there has been a significant increase in the total volume of keywords rankings. There was 17,048 keywords ranking in June 2019 compared to 36,477 in April 2021. In June 2019 there was 790 keywords on page one of Google, compared to 2,858 in April 2021.

Specific Keyword Rankings
Below is a snapshot of a small selection of keywords before and during SEO (after just 3 months).
Three months into SEO
After a short period of time, we were able to see keyword rankings across the site improve significantly. We noticed ranking increases for products, as well as categories.

 As time went on
As we went into the 2nd year of our ecommerce SEO efforts, we saw far more keywords moving up middle to bottom of page one and from pages 2-4 of Google, onto page one.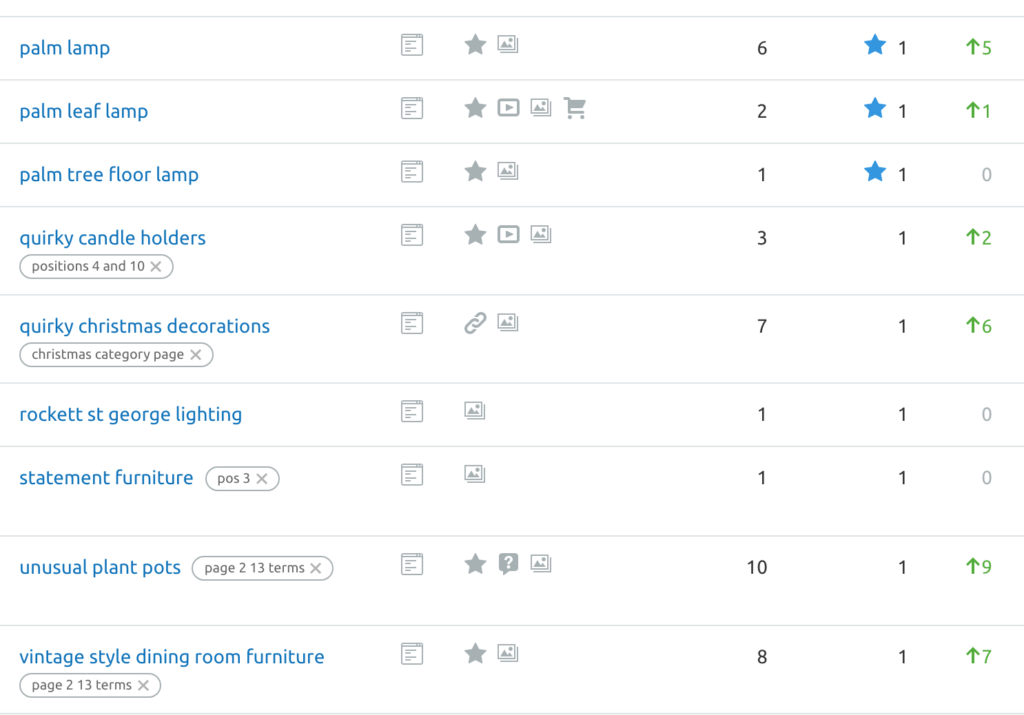 SEO organic traffic results
Below is a snapshot of Google organic traffic from January 2019 to February 2021, on a weekly view. Although we were expecting an increase each November due to Black Friday, this growth was larger than expected and new highs were felt year on year.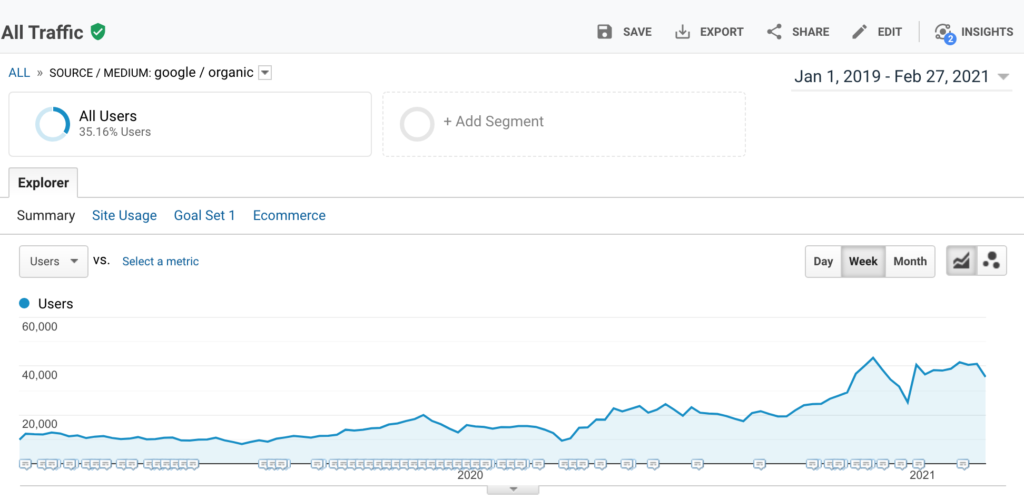 When comparing November 2020 to November 2018 (before our involvement) Google traffic, there was a 181% increase in traffic and a 128% increase in revenue from Google organic. Overall, the business had a 168% increase in total website revenue.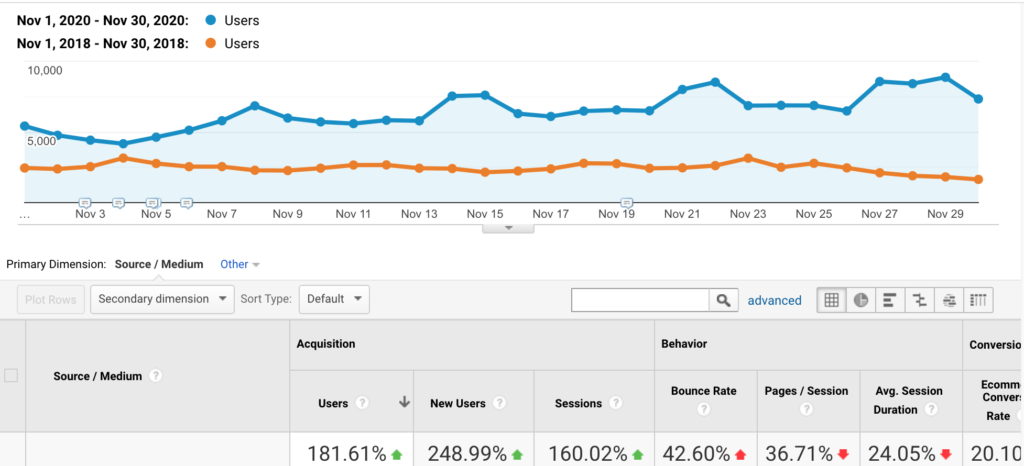 What worked best so far?
SEO audit to give the client clarity over what issues were preventing the site from reaching higher visibility on Google. Each item we covered in the audit was given a priority level from 1 to 4, with level 1 being something which if addressed will have the highest impact on the SEO.
Audit of broken links and broken links with valuable backlinks. We managed to claw back hundreds of valuable backlinks by mapping out redirects for old, retired urls. As the site is ecommerce, products come and go. Masses of products had old backlinks from high-powered sites, though the backlink was no longer providing SEO benefit due to the product page being deleted and returning a 404 error.
 Christmas content strategy for the company blog. We reverse engineered the best content strategies of the likes of Argos and other leading homeware companies and used data to inform our client. With our blueprints for each piece of content, our client was able to launch blog posts with the confidence that each blog post had clear targets and markets. We used these articles to show Google we had topical authority in certain areas such as mirrors or sofas.
University backlinks. We devised creative strategies to get universities to link to our client's site.
Keyword research for categories that have the highest demand. Using keyword research tools, we were able to find out how many people search each keyword per month. This provides invaluable information for our client and helped them make decisions regarding the products they will keep in stock. It also allowed us to identify the categories that have the highest potential for traffic.
Other SEO activities we will cover
Working with influencers who also blog. Consulting on the safest way to do this to avoid Google Penguin penalisations (penalties for link building that is deemed against the Google guidelines).
Consulting to our client on the creation of new category text to boost the ranking positions. These will be ordered in priority by how close the category url is to ranking on page 1, as well as the demand for the category.
Google Analytics work to find 'leak points' on the site where users are exiting. Studying previous years to find out categories and products that are under-performing compared to previous years.
Supporting a migration to a newer version of Magento, along with other planned changes.
Training the team in SEO fundamentals for content creation and optimising product listings.
Evergreen content strategy based on the success their competition have had with professional blogging.
If you would like to learn more about SEO for online stores, check out our page about ecommerce SEO services.