What is a backlink audit or backlink removal service?
Each and every link pointing to your site has an impact on the performance of the website in search engines.
We all want an endless stream of free, well- targeted traffic from Google, but many business owners don't understand the importance of quality links at this point. Furthermore, many business owners can't tell a good link from a bad link and often ride the wave of bad links until they are penalised and need help to try and undo the mess.
We are experienced in carefully auditing the backlinks to websites that could be at threat of a penalty or may have already been penalised by Google. The process of  disavowing links relies on us having access to the site's Google Webmaster Tools account, Google Analytics and a backlink analysis tool we love such as Link Research Tools (we already have this). We export a full list of links to your website and manually analyse the quality of each and every link. If we deem a link to be of a poor quality we add it to the disavow file. There are many reasons a link will find itself in the disavow file, including some of the following:
The linking website is obviously spammy or of a bad quality (potentially foul of duplicate content)
The link uses an anchor text which has been used too many times in relation to the overall backlink profile.
The anchor text is often a 'money term', rather than a branded anchor text or url link.
The linking website is not relevant enough to your website
You don't have to wait to perform a disavow when you have already noticed your organic traffic has disappeared overnight. We help business manage the backlink profile before any signs of a penalty. We pride ourselves on ensuring all of your quality links are kept intact and kept well out of the disavow file that we will submit for Google to review.
How does the backlink audit process work?
Below is an example of a precautionary backlink audit we are carrying out. This site is acquiring natural links, as the brand awareness has grown. You can't help people linking to you naturally, but you can keep an eye on the linking sites and make sure they are benefiting you, rather than putting you at risk.
As well as finding bad links and putting these aside for the disavow file, we like to find opportunities to get link value from sites that linked to you but made the link 'nofollow'. We look at the links one by one and categorise them into 'bad', 'borderline' and good. Without even clicking the linking url, we can see what the anchor text was and use this information to help categorise the link before viewing the page. We also can see where the IP address sits, and depending on the client we may consider flushing out links from foreign countries because this could look out of context to Google. *This really depends on the business you are looking after and their market. Sometimes a link from a foreign site could be very valuable.
Clients are always surprised and intrigued when they find out all of the places online where they have been discussed or simply linked from. As well as trying to prevent a penalisation from Google, this process can often spark ideas for link building campaigns.
What does a bad backlink look like?
We are trained to see bad backlinks and easily qualify the value or threat any given link possesses. Below is an example of a bad link on a spammy site, linking through to an image that our client has uploaded to their own company site. There is no context to this link at all and the linking site has no trust from Google. It must be dealt with accordingly and added to the disavow file.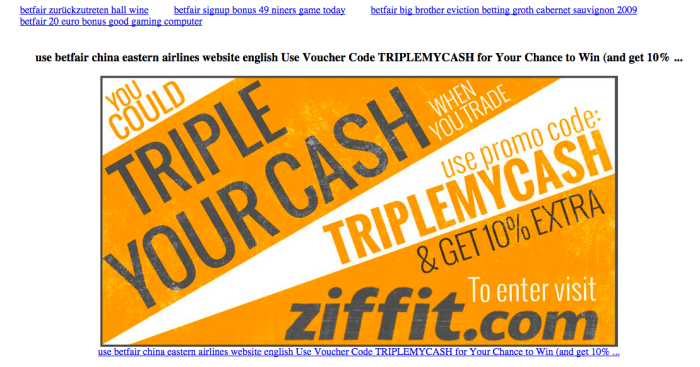 Are competitors doing this to try and get your site penalised?
Negative SEO, the act of building bad links to a competitor's site, is something that exists. In more recent years this has become less of a topic because Google's algorithms are more sophisticated and can understand malicious attacks. Normally you will find it is not actually competitors building these links and there can be logical answers to how these bad links came about.
Someone in the company was not informed on good linking building guidelines and was unaware they were damaging the site's ability to rank.
An outsourced SEO agency had hired low quality link builders to do the task.
Your SEO agency had done overseas outsourcing.
Your site has been hacked at some point and both inbound and outbound links were built.
Scraper site (sites that just copy content off the web) have linked to you because they copied your logo or some of your content.
What does a good link look like?
There are many ways we can quality a link as 'good', but commonly we will be able to see by looking at the 'Mozbar' domain authority figure. This shows us a number from 0-100 and allows us to gauge the domain's power. A figure of less than 8 is normally either a new site or a weak domain that won't pass value to your site.
We then gauge the usefulness of the content on the page where your link is featured, the relevancy of the domain to the client's domain, what the anchor text is and the volume of links on the page. Below shows a good link from a recycling website (something very relevant to a trade-in website, which is an alternative to recycling).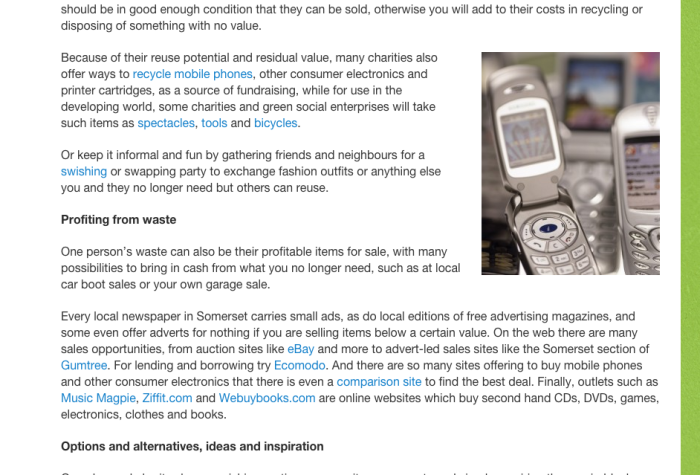 We can comfortably say this is a good piece of content on a great domain, with a safe branded anchor text. It passed the test.
How do you submit the disavow file to Google?
Once we have run the backlink profile past our client, we can then take each domain or URL and compile a list in a specially formatted txt file. We then go to Google Webmaster Tools and submit the file. On successful submission a message like the one below is shown.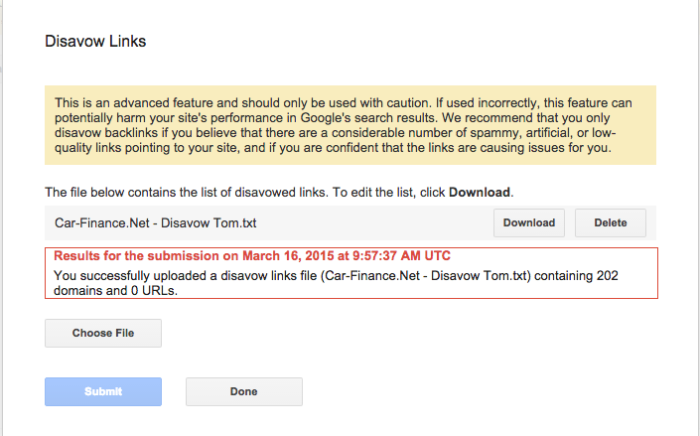 Results
Backlinks audits are not a guaranteed fix for the penalty because Google decides on the level of recovery you should get. Below is a screenshot of the organic traffic changes one of our old clients experienced after a disavow in August 2014. One month later a Google penguin update was rolled out and the site made a pretty good comeback, after being suppressed from a long time due to bad link building tactics.
If you are concerned about the state of your backlink profile, or if you have experienced a sudden drop in traffic or enquiries then let us know. If you are interested in learning about more of our SEO services then check them out here.