Restaurant chains operate in one of the most competitive online search markets. Ranking well for desirable short-tail keywords across all your locations can be incredibly difficult with the amount of competition in this space.
Convert Digital has restaurant-chain-specific SEO options and expertise that can propel your business past your competition in your locations.
Build your restaurant chain's online visibility and beat the competition with effective and industry-specific SEO from Convert Digital.
What SEO can do for your chain of restaurants
Online searches for places to eat have exploded over the last few years. Ranking well for searches such as 'restaurant near me' or 'best burgers in Brighton' can increase leads, sales, and revenue in ways that traditional marketing campaigns struggle to. Some of the other benefits of SEO for your restaurants include:
Increase web traffic to your site: by optimising your site to increase its page rankings, you will experience more visitors to your site. This opportunity to interact with, and inform them of who you are and what you offer, is what SEO is all about.
Increase reservations and sales: people searching for food, restaurants or food delivery online are generally highly motivated buyers with a high conversion rate. Every time a potential customer views your page, there's a relatively high chance of them becoming a paying Make sure you're seen!
Get your locations to perform more consistently: SEO can help your underperforming locations increase sales and revenue. Restaurant SEO service providers have the tools to help identify why some locations are struggling to make it into the top results, and apply the changes necessary.
Build brand awareness for your chain: as your page makes it into the top results more often, more people become aware of your brand. Over time, this builds much-coveted brand recognition.
Convert Digital chain restaurant SEO service packages
Convert Digital offers chain restaurant SEO services at various price points with custom deliverables.
What the Silver package includes:
This is a great option for websites that are local search engine ranking focussed
24 hours of SEO every month
Monthly catch-up calls and video reporting
Full onsite Improvements
Citation management
Review management
3rd party 'piggyback' SEO
Technical SEO (Robots, XML)

Low commitment agreement (notice period exit only).

Who tends to choose this package?
Chain restaurants with few locations. Bigger focus on improving SERP rankings for local searches for the few locations they have
What the Silver package includes:
This package has the highest success rate in getting websites to position 1 of search results
Nationwide search engine ranking focussed
40 hours of SEO every month
Monthly catch-up calls and video reporting
Full suite SEO and priority task completion
Citation management
Review management
3rd party 'piggyback' SEO
Continuous 24/7 monitoring and reactive support
Content creation for your website
DA40+ link building and cross-linking
Low commitment agreement (notice period exit only).

Who tends to choose this package?
Small to medium chains that are aiming to increase revenue in underperforming locations.
Small to medium chains aiming to build brand awareness and recognition in national searches and local.
£3000-£6000+VAT per month
What the Bronze package includes:
This package is typically for brands who are turning over £1-20M per year.
Nationwide search engine ranking focussed
48-96 hours of SEO every month
Monthly catch-up calls and video reporting
Full suite SEO and priority task completion
Citation management
Review management
3rd party 'piggyback' SEO
Continuous 24/7 monitoring and reactive support
Content creation for your website
DA40+ link building and cross-linking
Low commitment agreement (notice period exit only).

Who tends to choose this package?
Nationally recognised large restaurant chains looking to exploit niches or further establish market share. They want to dominate national and local SERPs.
MEATliquor is a national diner chain with locations all over the UK. They specialise in burgers, fried chicken, craft beers and cocktails. In June 2022, they approached Convert Digital for full-suite restaurant SEO for all their locations in the country. While they had an established and well-ranked website at the time, they were still struggling to rank well for specific keywords in all locations.
After conducting a free SEO audit of their site, we felt confident that we would manage to secure the top search results for them. They had a good foundation with strong page authority and valuable backlinks, and this helped us propel them to the top SERP position for many of the most relevant keywords.
We set to work, and 5 months later, the results speak for themselves. During this time, Convert Digital has:
Secured the #1 page ranking spot for 6 locations for the most relevant keywords. 'burger forest hill' and 'burger queensway' moved from the 19th and 17th spots respectively, all the way to the top result spot!
Managed to get MEATliquor on the first SERP (search engine results page) for all its other locations in our contract.
Increase MEATliquor's overall online visibility by about 30%. (see screenshot)
Secured rankings in the top 3 SERP results for 22 related keywords, and top 10 rankings for 44 more. (see screenshot)
Increased specific keyword rankings by up to 80 positions.
Developed a long-term SEO strategy. SEO is an ongoing process that requires constant attention. Our long-term SEO partnership with MEATliquor ensures that they'll continue to enjoy the fruits of their SEO success for years to come.


We look forward to the day we can do the same for your restaurants!
Convert Digital Restaurant SEO Service Deliverables
| | | | |
| --- | --- | --- | --- |
| Package features & deliverables | Bronze | Silver | Gold |
| Free SEO analysis & report of your site |  ✓ | ✓ | ✓ |
| Onsite improvements | Full  onsite improvements | Full  onsite improvements | Full  onsite improvements |
| Dedicated SEO hours to your site | 24 hours of SEO | 56 hours of SEO | 96 hours of SEO |
| Google Business Profile (GMB) optimisations | ✓ | ✓ | ✓ |
| Local Keyword Research | ✓ | ✓ | ✓ |
| Citation Management | ✓ | ✓ | ✓ |
| Review Management | ✓ | ✓ | ✓ |
| Technical SEO (Robots, XML) | ✓ | ✓ | ✓ |
| Monthly video & email reports | ✓ | ✓ | ✓ |
| Optimising your pages sites like Tripadvisor | ✓ | ✓ | ✓ |
| Full suite Local SEO |   | ✓ | ✓ |
| Content creation for your site | ✓ | ✓ | ✓ |
| Priority task completion | ✓ | ✓ | ✓ |
| 3rd party 'piggyback' SEO | ✓ | ✓ | ✓ |
| 24/7 site monitoring and reactive support |   | ✓ | ✓ |
| DA40+ Link Building and cross-linking |   | ✓ | ✓ |
| Direct access to your SEO agent | ✓ | ✓ | ✓ |
| Low commitment agreement | ✓ | ✓ | ✓ |
| Monthly package costs | £1,500+VAT | £2,500+VAT | £3,000-£6,000+VAT |
Convert Digital chain restaurant SEO in action
Because the restaurant industry is so competitive, the fight for the top SERP rankings is never easy.
While traditional SEO services could absolutely help you increase your rankings; experienced SEO consultants will tell you that there are industry-specific SEO services that have a lot more to offer.
We take a targeted approach to each client's SEO needs, but these are some of the common steps we take in boosting page rankings for our chain restaurant clients.
"Piggyback" on 3rd party sites for keywords you can't rank for
Grab your phone and search for 'best burger in ___.' Most likely, you'll end up looking at a Google SERP page with 3 options selected by Google (the Google 3-pack), followed by many review sites, blogs and directories. For pretty much all locations, you have to scroll pretty far down the page to reach the first actual restaurant website.
Review sites and blogs such as Yelp, Tripadvisor, and OpenTable have accumulated massive page authority and hundreds of thousands of backlinks over the years. Even massive multi-national chains such as Nando's or KFC won't manage to rank for 'best food in location' results against these review sites. And it is not just big, well-known sites that rank for these terms. Many lifestyle bloggers and local tourism sites exploit this space and monetise their visibility by being open to working with hungry brands that want to piggyback that exposure.
Why not use this to your advantage? If no one can outrank them, how about ranking well IN them? Convert Digital may well have an ongoing relationship with the ranking sites in question and can bargain and negotiate with them to get your restaurant featured in a prominent location.
A search for 'best burgers in Brighton'  yields the usual Google 3-pack result, followed by Tripadvisor, then a series of local blog-style review sites with articles and features on the best burgers in Brighton.
Our client, MEATliquor, features prominently within the top 3 organic results; TripAdvisor, resturantsbrighton and designmynight. TripAdvisor has an order online link, while the blog-style sites have direct links to MEATliquor's website and social media. Third-party links like these can dramatically increase sales, as well as boost your own page rankings in the process.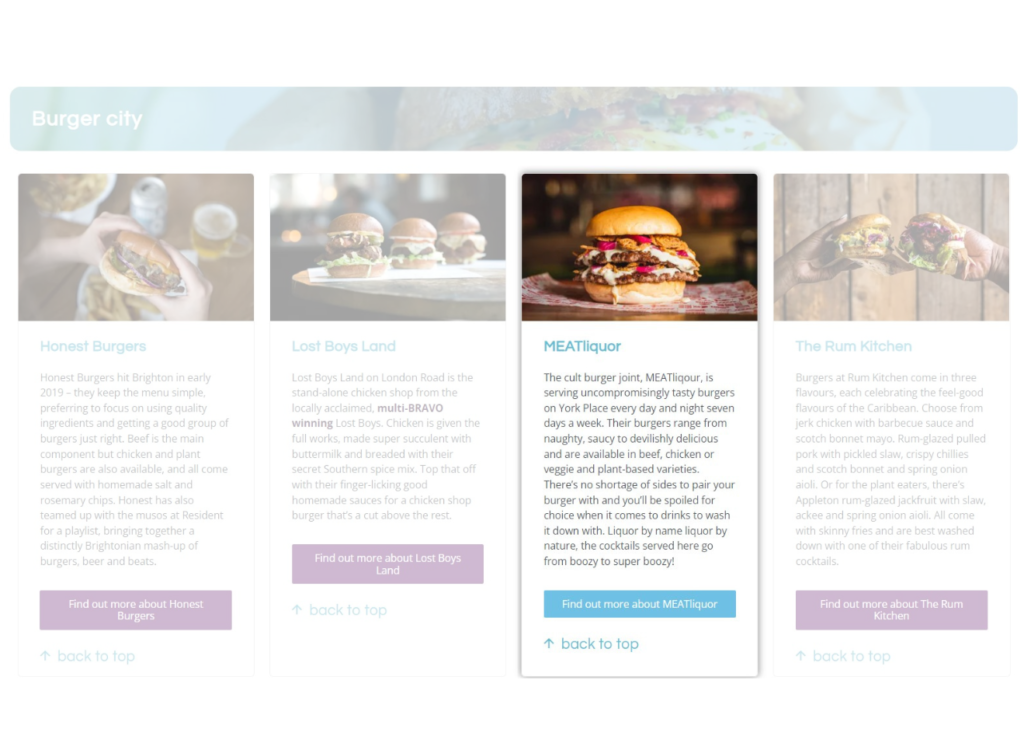 Develop a keyword strategy
People searching for food, restaurants or pubs online don't all have the same intent. Some might be ready to order immediately, some are simply looking for information, and others might be trying to make a reservation. Your keyword strategy should reflect this, and be more than just a loose connection of words that describe your restaurant.
A good keyword strategy will include keywords for customers who have no idea what they want and are open to suggestions; customers who have an idea of what they want but are still looking for the perfect restaurant; and customers looking for you specifically.
Competing in the I don't know what I want market is exceptionally tough. Ranking well in searches like 'restaurants in Birmingham,' or 'places to eat in central London' is pretty much impossible, and as such, the broad-intent search category usually only makes up a small part of the overall keyword strategy. (Refer to point 1 above to see how we compete for good broad-intent searches)
Next, we have the I know what I want, but I'm not sure who to get it from customer. They might know what they want to eat, either a specific meal or ethnic cuisine, but haven't decided where to go, or order from. Typical keywords for this type of search could include 'steakhouse near me,' or 'indian food torquay.' These specific keywords are easier to compete for, and are an opportunity for your restaurant to differentiate itself. Your SEO consultant can help your choose the most relevant keywords that go beyond your menu items and bar offerings.
Finally, we have the I know exactly what I want and who I want it from! customer. They will actively search for the restaurant of their choice by using brand-specific keywords.
Boost your webpage authority with backlinks
As your business becomes more successful, you will hopefully see an increase in the number of backlinks to your site. This is valuable for SEO, as search engines 'value' the number of links to your site or pages on it. The more backlinks you have, the more trustworthy your website appears to search engines, the more authority it has. 
You can take advantage of this by actively reaching out to industry partners, suppliers, publishers, content creators; or anyone else you can think of that runs a reputable site. If they add a link to your site in a blog post or page, it boosts your page ranking.
Building long-term page authority with backlinks is a time-tested winning strategy in SEO. Unfortunately, doing this yourself is time-consuming and usually involves hours of talking to and negotiating with people. Convert Digital includes DA40+ link building and cross-linking as standard deliverables in our gold and bespoke monthly options. Many of our bronze and silver clients choose to add it to their packages as an optional extra.
Gain prominence through positive reviews & review management
If a customer searches for 'mexican food', Google will provide them with the results that are  most relevant, closest to them, and most prominent. Most relevant means it looks for businesses with the best description matches, closest is self-explanatory; but what does most prominent mean?
From a search engine point of view, it means importance. Your prominence is determined by factors such as your number of backlinks & citations, and importantly, positive reviews. Google uses reviews from multiple sites —including your Google My Business (GMB) profile— to determine your average review rating, then uses this rating as a factor of prominence. In other words, you can increase your page ranking by getting more positive reviews. Many restaurants encourage their patrons to leave a review when they're sure that their guests had a good time. Responding to reviews, positive or negative, is another SEO best practice.
Convert Digital offers review management as part of our Silver and Gold packages.
Get your websites cited in relevant local directories
Directory citations (or entries) play an important part in how all search engines find and rank businesses. Unlike blog posts or reviews, which are subjective and can be of any length, directory entries are short, keyword-dense snippets of factual information about your business.
A typical directory entry would include important information about your business, such as an address, opening hours, a backlink to your website, and contact information. They might also include a 1 sentence description, with maybe further descriptions and keyword entries if you select a specific business.
Search engines want to provide their users with reliable results. They want to accurately tell their users where you are, when you're open, and what you do. Directories are a great place to get this information, but it's important that the information is correct and up-to-date. Conflicting information across different directories can have a negative effect on your rankings.
Convert Digital helped MEATliquor develop a successful strategy for dealing with directories. They now rank prominently for broad search terms in one of the biggest online business directories, and we helped them rank for some of their additional selling points, including cocktails and live music.
Getting started with SEO for your chain of restaurants
We've made the process of getting started with restaurant chain SEO as streamlined and simple as possible. Just follow the steps below to start your SEO journey today.
Convert Digital performs an obligation-free SEO audit of your restaurant's website and overall online presence. This includes checking your current strengths and opportunities, as well as determining what's currently holding you back in the rankings.
At your convenience, we schedule a video call to discuss our SEO audit findings. We make sure to give our clients a detailed breakdown of their current SEO situation in terms that they understand. We also take great care to understand our clients' needs, values and unique selling points. This allows us to create unique and custom packages that perfectly suit each client's profile.
We provide you with high-quality, ongoing, restaurant chain SEO services, alongside detailed monthly video- and written reports.
Restaurant chain SEO FAQs
Q: What makes restaurant chain SEO needs different from traditional or local SEO?
A: Restaurant chain SEO requirements are different from those of independent or standalone restaurants. Whereas both types of restaurants benefit from local SEO, restaurant chains have the additional pressure of competing for brand awareness and market share on a national level.
Our custom chain restaurant SEO packages can simultaneously help each individual location boost its local presence, and increase brand awareness across the nation.
Q: I don't have a lot of locations. Wouldn't local SEO services be a better option for me?
A: Local SEO services are included in our restaurant chain SEO packages, but even smaller chains can benefit from building brand awareness on a larger scale.
First-time visitors to places where you have locations are more likely to head to yours for lunch if they can identify your brand.
Our restaurant chain packages include all the SEO elements you need to start building page rankings for your website.
Q: I'm already well established with a growing reputation and a working online presence. How can SEO help me?
A: We applaud any business that has managed to organically grow its website into a well-ranking position on a SERP, especially in a competitive market.
Our SEO agents all have 10-20 years of industry experience and have helped businesses in many different industries develop their online presence. This leads to accelerated brand awareness, market share dominance, and greater consistency for all locations in SERPs.
Q: How can I check my restaurant chain's SEO?
Determining the exact SEO status of a restaurant chain is easier said than done. You have to evaluate strengths and weaknesses for each location, as well as look for opportunities to increase page rankings on a national level.
Free online SEO tools might be of some use in evaluating SEO for a location or your website, however, they won't be able to give you a holistic overview of your chain's status and needs.
Convert Digital offers a free SEO audit of your online presence as a whole. This includes
Detailed keyword analysis for all locations using industry-grade SEO software.
Identifying specific shortcomings and threats for each location.
Analysis of your main site in terms of efficiency and opportunities.
We make sure to communicate our findings to our clients in terms they understand. This allows them to make the best possible decisions for their business moving forward.
Q: Where can I get more information?
A: Our team is ready to answer any of your questions! Contact us today to find out more about our free SEO audit, or to have any of your specific SEO questions answered by the professionals.
Build brand awareness for your restaurant chain with specialised SEO services from Convert Digital
Increase business presence for all your locations and be more visible in 'near me' searches. Build brand awareness for your chain of restaurants.
Convert Digital has what it takes to help drive restaurant revenue through targeted, industry-specific SEO.