Overview
The Chelsea Knee Clinic approached us about SEO shortly after launching their website in 2017. They wanted to diversify their current lead generation strategy, which relied mostly on referrals from GPs and other clinics in related industries.
After an initial conversation, we were able to understand what the knee clinic is looking for in general terms. Visibility for 'knee clinic' and 'knee specialist london' were the original primary targets. Although we knew the keyword strategy would become a lot more complex, this was the starting point.
We started out with an SEO audit and then moved into keyword research, before then chipping away at each issue and opportunity we discovered in the audit.
From March 2017 through to 2019, The Chelsea Knee Clinic continued to get strong visibility on page one of Google for valuable keywords.
SEO Ranking Results
Through continued efforts, the rankings grew in 2017, 2018 and 2019. Below is a snapshot showing keywords not even ranking in the top 100 results, going on to rank position 3, 4 or 5 on page one of Google. Some page one results were achieved in 6-12 months, whereas others did not surface until after this.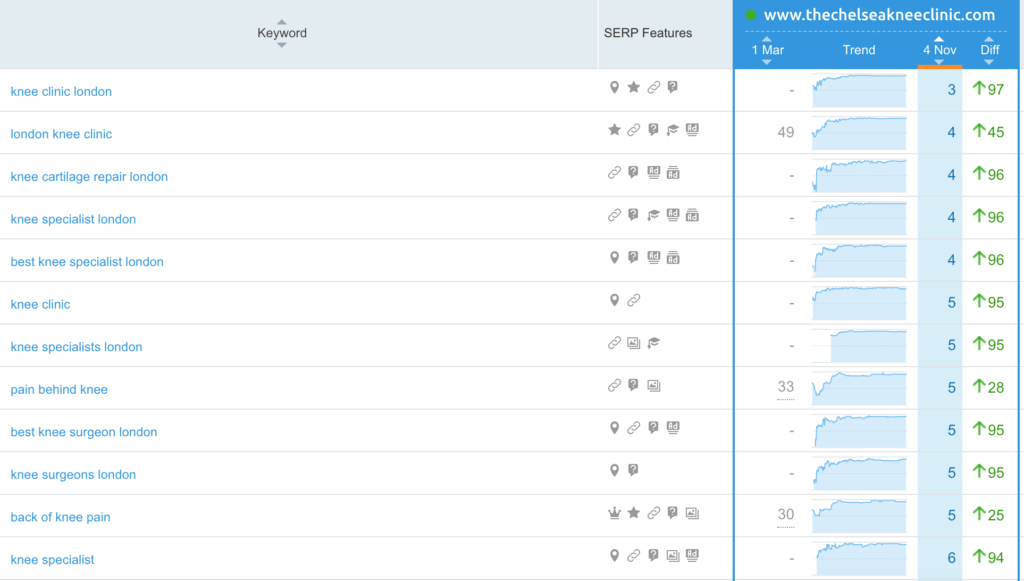 As of November 3rd 2019, the website has over 1,900 different keywords ranking in Google UK.

SEO Organic Traffic Results
2017 vs 2019 year on year Google organic traffic increase of 10,895%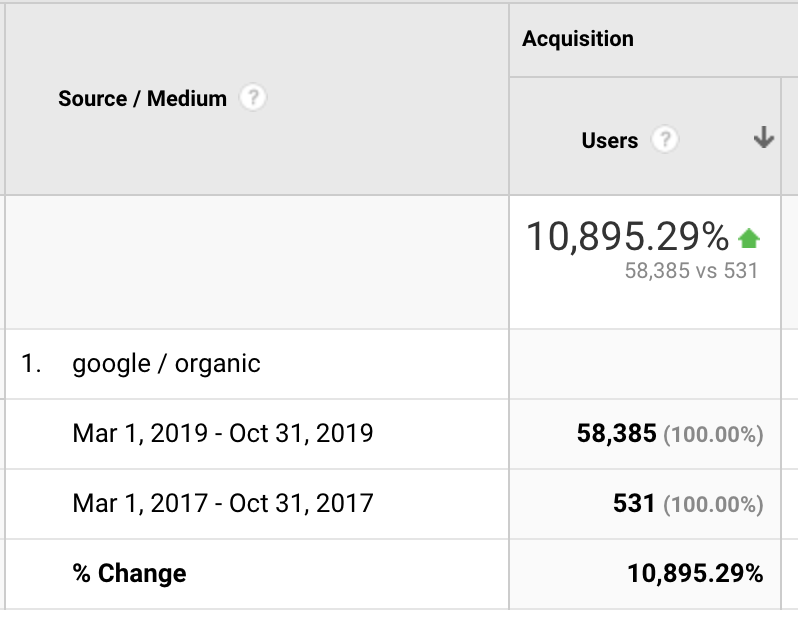 What Worked Best?
Some of the greatest SEO results can be attributed to the below:
Detailed pages about the different knee procedures patients can get at the clinic.
Content strategy for the company blog. This resulted in thousands of additional keyword rankings and meant the website performed better through the Google Bert update. We were able to research what each and every blog post should contain from an SEO standpoint, so all efforts were targeted and measurable.
University backlinks.
Directory link building.
Understanding the patients' concerns through discussions with the clinic owner and knee specialist. We used this to ensure content met the needs of the searchers.
Ongoing management of technical SEO and housekeeping of SEO issues.
Detailed pages about treatments
Google reported that the UK increased their search for some health queries and concerns by 8,781% from 2015 to 2018. For a private clinic or GP, this means an opportunity to give accurate and honest advice and position themselves as an authority in their specialism.
We were able to understand the language being used by the potential patients and tailor the page to their needs and increase the chances of ranking for these terms. Combined with this, we studied which pages perform best for the target keywords our client should rank for and took inspiration from these competing pages.
As the Google Medic update came out, search results for health content seemed highly impacted. The search results completely changed as Google attempted to push down medical content that was not written by medical professionals or authorities on the topic. We made changes to highlight the fact the content was produced or approved by the medical professional himself.
Content strategy
We understood the massive demand for content that answered peoples medical concerns. By honing in on the knee ailments, treatments and concerns, we built trust with Google as being a good source of information and began to rank articles.
One article even achieved 816 different keyword rankings alone.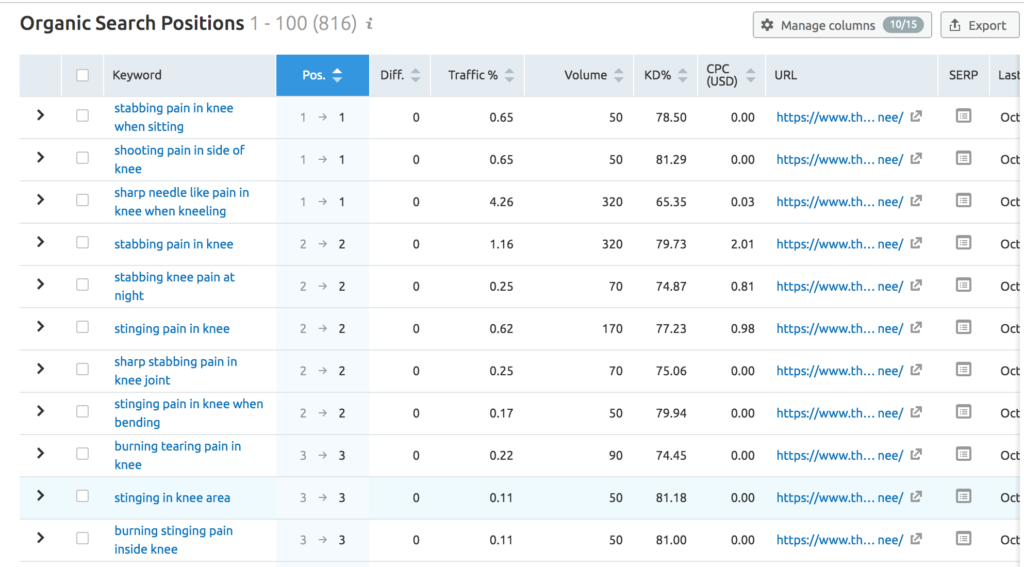 This process became a key part of the campaign and nearly always delivered great results. As well as this, Google rewarded the site with higher homepage rankings, as they understood the site was more than just a place to advertise the services.
University Backlinks
University websites are one of the most trusted types of websites when it comes to Google's algorithms. By being featured on a university website, the medical website can benefit from trust signals and consequently rank higher for target keywords.
Directory Link Building
Directories are a way of giving Google breadcrumbs to follow, to validate that your clinic or medical practice is legitimate and exists. It shows Google what your address is, your website address, your phone number and what you do.
We used directories to clearly give Google these pointers and help the local rankings that our client wanted for London.
Understanding the medical concerns and treatments in more detail
As we recommended articles to create, we realised our client needed help with actually producing material. We were able to use our trusted writers to produce the content once we understood any nuances fed back to us about certain conditions or treatments. This meant all our client had to do was read the article to ensure the information was accurate and approved by himself. We then handled uploading and optimising the article with the use of internal linking and optimised metadata.
Ongoing management of SEO issues
All websites need their housekeeping to ensure there are not technical SEO issues holding them back. We use various SEO auditing tools and Google Search Console to monitor issues as they appear and provide solutions.
Continued SEO Efforts for Medical Companies and Doctors
As a consequence, we went on to deliver SEO for a German Private hospital that entered the UK market in 2018 and a leading osteopath on Harley Street. This also got the attention of key dermatology clinics on Harley Street.
We have also branched out to help specialist skin clinics and weight loss clinics in Brighton & Hove.