Our Experience in SEO for Loft Conversions
We have provided SEO services to All Loft Conversions for many years, starting back in 2017.
All Loft Conversions is a Brighton based loft company who have historically relied heavily on getting leads from Google organic search. Their word of mouth was working, but due to not having multiple loft projects running at once, their word of mouth was more sparse than a local competitor. On top of that, loft companies were popping up regularly, making competition more fierce.
At our peak, we had helped our client rank number 1 for 'Loft conversions brighton' and high on page one for a wide variety of other relevant terms. This led to a very healthy flow of both phone calls and contact form enquiries, allowing our client to pick and choose their next project to best suit them.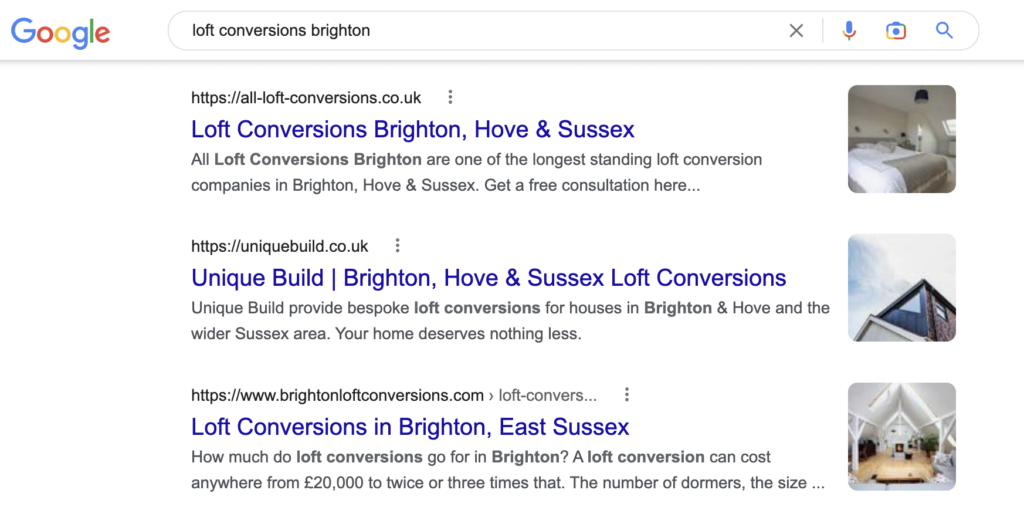 Number one spots secured for relevant keywords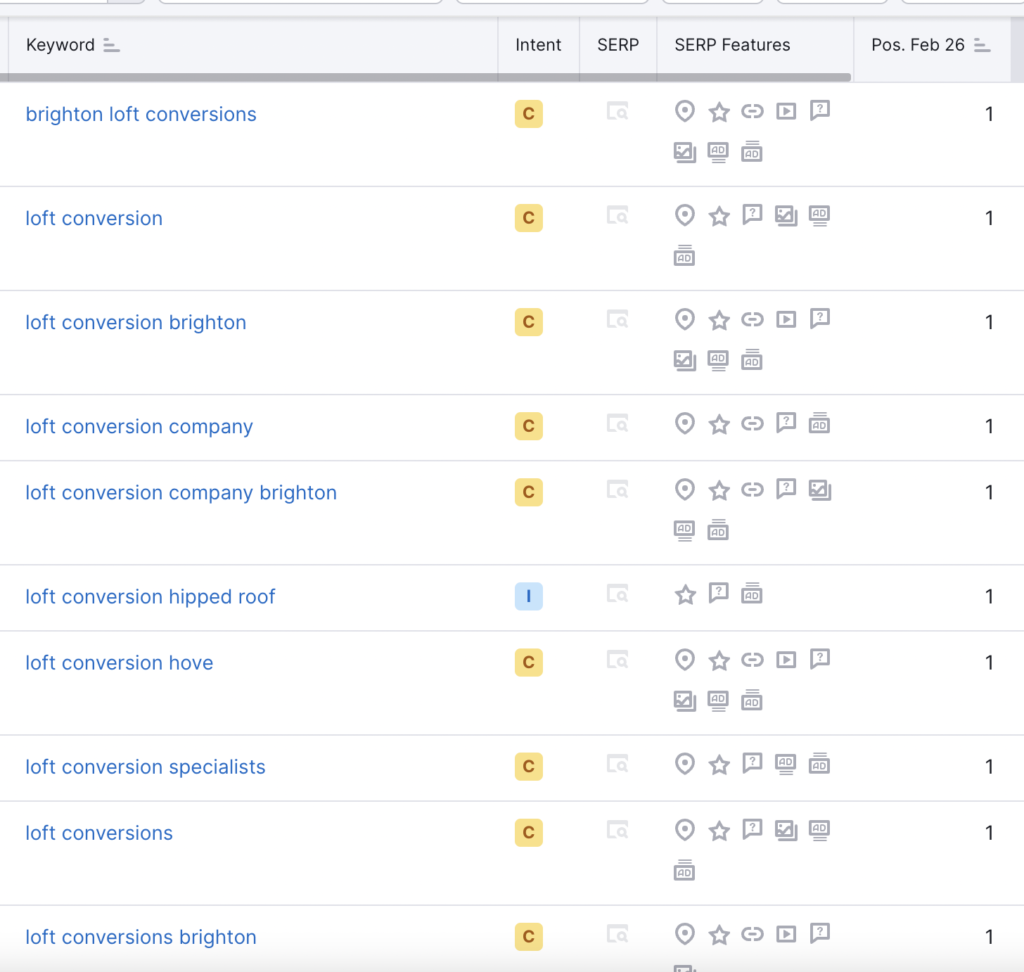 Their main issues and reasons for looking for professional help with their SEO were:
Slipping down page one and noticing less leads coming in.

Wanting to have a website redesign but unsure of the implications on the SEO.

Not knowing how they ever got on page one for some important keywords and feeling concerned about making changes because they did not understand SEO at all.

Desire to have enough leads to cherry-pick work that they really wanted.
First Steps – technical SEO audit
We started with a technical SEO audit. This gave us a clear picture of the onsite SEO issues and allowed us to grade each issue. We graded the most high-importance issues as a level 1, and the least important issues as a level 4. In doing this audit, the main issues were:
The website lacked any content aside from the homepage and a couple of other pages. 

Very few backlinks.

Site speed issues.

The site was very dated and basic. It was full of technical SEO issues. It clearly needed bringing up to modern day standards.

The directories were listing various mismatched info about the company.
How we did it
Keyword research
Once we had our SEO audit out of the way, we moved onto keyword research as the client was signed up to a monthly SEO package. It was at this point that we could see that there was a clear need for keyword targeting in the title tag and h1 tag. This essentially means using certain wording on a certain part of the page and in field in the backend of the website.
We studied the competitors who were performing best. We noticed the use of additional pages to attract keyword rankings for secondary keywords.
Loft sites have a relatively simple keyword structure. The homepage will typically rank for 'loft conversions + town/city name'. 
Then there might be a few location pages specifically aiming for other towns and cities within their catchment area. 
Finally, there might be blog content which ranks for various things related to loft conversions. For example "how much should a loft conversion cost?" or "what type of loft can I get?".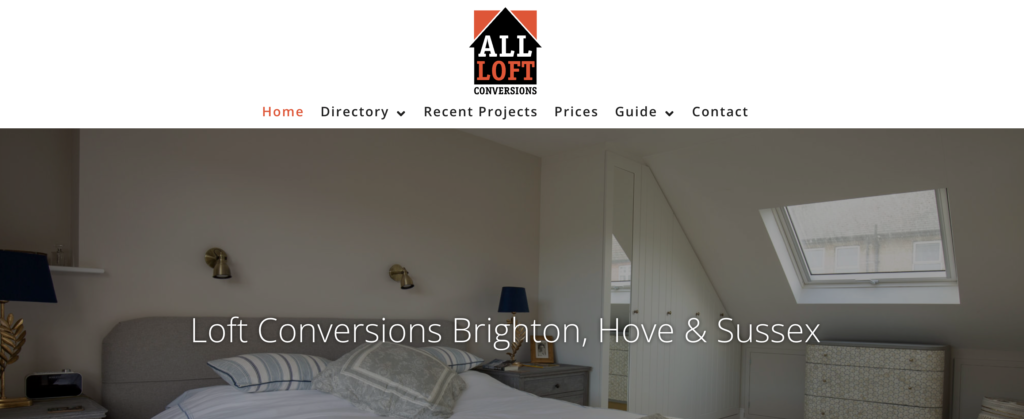 Content Creation
As the basic pages of the website were addressed with keyword targeting, we moved onto the secondary terms. This is when we created a content strategy. Our content strategy highlighted all of the pieces of blog content we should create, and why.
There was a healthy amount of potential content to create, ranging from Velux window loft conversions to Victorian Terrace House Loft guides. 
We successfully ranked many pieces of blog content which not only brought in very specific traffic and leads, but also supported the primary rankings too.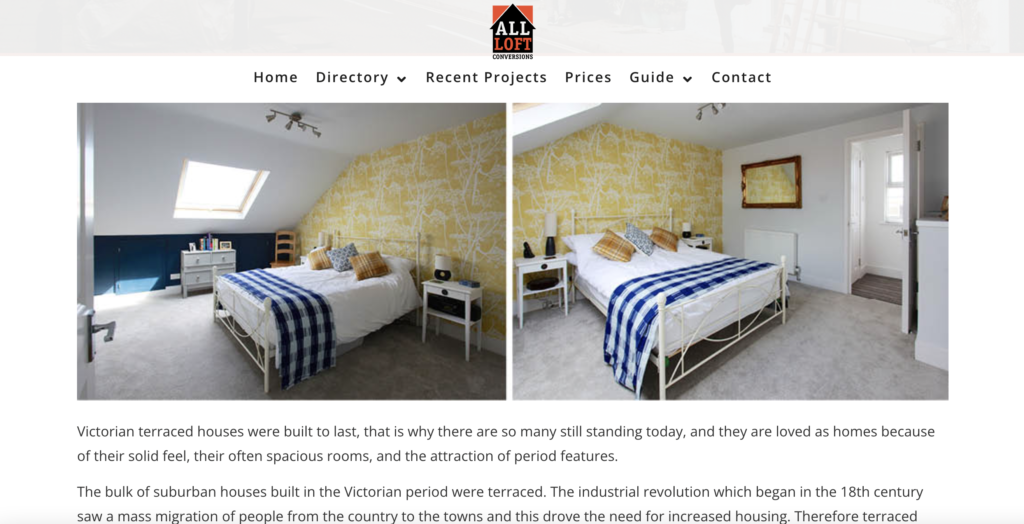 Below is an example of a keyword ranking achieved through creating specific SEO content.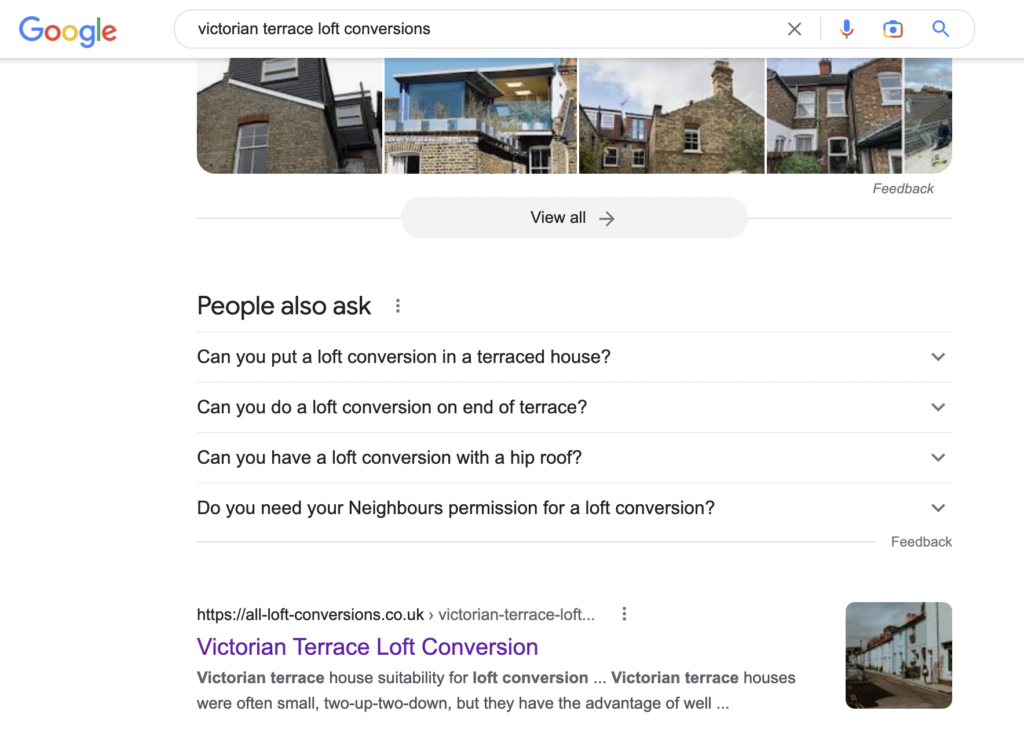 Reaching further afield
Once we had a good grip on ranking in Brighton and Hove, we were keen to rank in other towns and cities. This would give our client the option to expand if he wanted to, or travel if a project was particularly attractive.