Our Experience in SEO for Rehab Clinics
We have provided SEO services to Paracelsus Recovery during 2020 and 2021.
Paracelsus Recovery is a luxury rehab clinic based in Zurich, Switzerland. Being branded as the most luxurious rehabilitation centre in the world, meant getting the SEO to perform well was a critical step to take. It was also critical that the brand message and the SEO worked hand in hand.
Their main issues and reasons for looking for professional help with their SEO were:
Serious and sudden loss of organic traffic since August 2018 – they did not understand the real reason behind this and thought it was connected to the restrictions Google put on Adwords for addiction keywords.

Website relaunch – concerns over relaunching their website and losing the rankings they did have at that present time

Reacting to the pandemic – preempting the long term impact it could have on enquiries and feeling a need for higher visibility to offset this hinderance

Desire to target business specifically from certain countries such as the UK, UAE and Saudi Arabia 

Knowing the

restrictions with Adwords for addiction

keywords, they wanted to achieve higher organic visibility
First Steps – technical SEO audit
We started with a technical SEO audit. This gave us a clear picture of the onsite SEO issues and allowed us to grade each issue. We graded the most high-importance issues as a level 1, and the least important issues as a level 4. In doing this audit, the main issues were:
The website was hit by the

Google Medic update in 2018

and there had been no reaction to rectify this.

International SEO had been set up incorrectly for the website.

Masses of 404 errors, with many 404 urls having strong backlinks pointing to them.

Lack of strong PR, which would be a necessity for a rehab clinic to get Google's confidence.

Toxic backlinks – backlinks which are not relevant and are bringing the quality of the backlink profile down.

Cannibalisation – multiple pages targeted at the same topic with very similar target keywords

Duplicate content – pages on specific addiction types all having shared content where the approach to the treatment is duplicated.

Ongoing blog content being published solely on Medium instead of the company blog

Each blog post has 'Our Blog' as the H1 tag – this left a lot of potential keyword optimisation untapped.

Their treatment pages did not have a clear way of showing Google who the team is. This meant Google could not easily understand their expertise and if they should be talking about such serious and sensitive topics online. This issue is directly related to the Google Medic penalisation they received.

Blog posts did not have an author attributed to them, which also meant Google could not trust the content as being written by a reliable source.
A Quick Word about Google Medic and Rehab Clinics
At the core of any SEO campaign for a rehab clinic, should be understanding Google Medic. Google Medic first rolled at the beginning of August 2018 and had a devastating impact on not just rehab or medical websites, but also financial websites and more. Essentially, any website that is discussing life-altering decisions such as your health or finance, would be viewed differently by Google.
But Why?
By 2018, Google search was awash with ranking results written by both legitimate authority sources, as well as bloggers who write on topics in an effort to monetise their blog. When serious topics such as addiction and rehabilitation are being written (and ranked), by someone with no qualifications or respected experience, you can see how we could have a problem on our hands. Google Medic wanted to address this and essentially protect people from misinformation that could really impact their lives.
Rehab clinics had been scrutinised for their previous referral schemes, which meant anyone could recommend a potential patient to a rehab of their choice (in return for a large commission). This meant, unqualified, yet savvy internet marketers could create websites that are purely a middleman between the patient and the rehab clinic. These addiction hotline websites used both SEO and PPC to drive masses of enquiries. Unfortunately, patients would be led to a specific rehab, based not on their addiction or mental health condition, but instead based on which rehab could offer them the best referral fee.
So why would a legitimate rehab clinic be penalised too?
When we looked at our client, we knew they were critically acclaimed, had all the top professionals in addiction and mental health on their team. Yet we also knew they had fallen foul to Google Medic. Through researching the best performers in the online health advice space, we could quickly see reasons for the sudden drop of traffic.
We have created a Google Doc with some key changes we proposed to react to the Google Medic update, specifically applicable to a rehab centre. Please request to see the document once clicking through.
High-Net-Worth Clients
One of the most important aspects of the marketing of this business was getting a specific type of patient / client to get in touch. We knew that through not displaying pricing clearly through the website, there would be a lot of leads that would not be appropriate. However, our client only needed a very small number of clients due the pricing of the service. Every client landed through the SEO was a high-net-worth individual or an ultra high-net-worth individual. 
Arguably the main way these clients were attracted, was through the branding and also the fact the clinic is in Switzerland. Switzerland is often known for class and affluence, so this did help.  The use of keywords was a critical component, and we often optimised pages with 'luxury' in the phrase, such as luxury eating disorder treatment – a phrase we took up to position 3 for those searching from the UK.

The Role of PR in Conjunction with SEO
Google's understand how important it is to have control over which websites can appear for the rehab clinics keyword. If they rank a scam website, then someones life might be at risk. That is why trust signals are so important for your clinic. 
You need Google to understand you are reputable. One way we believe this is achieved, is through combining the on-page SEO to work for Google Medic, but to also get positive PR.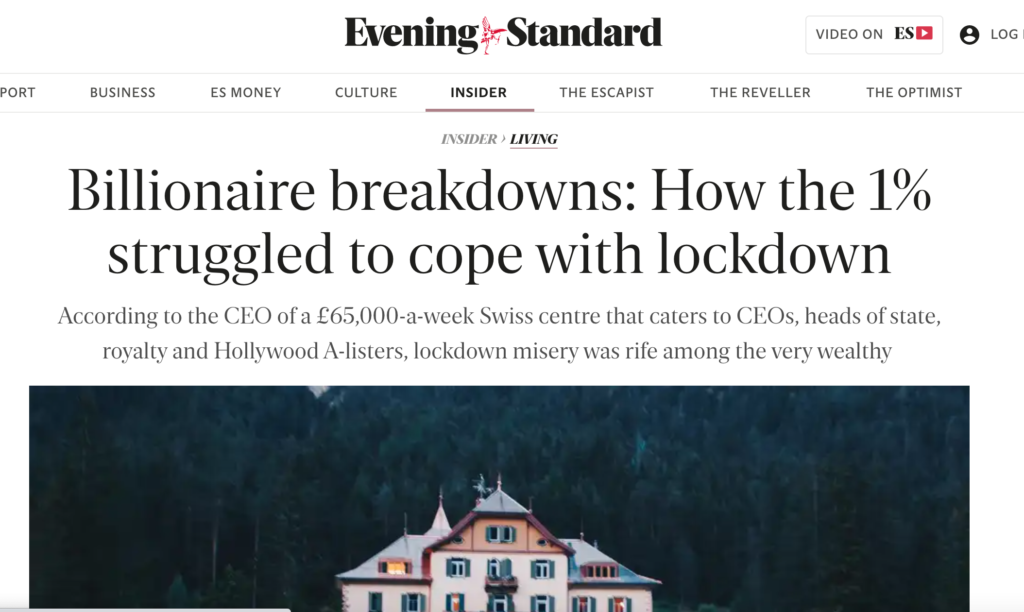 When Google can see that either major news websites or specific health websites are mentioning your company name or linking to you, you are building trust. This trust then means your onsite SEO can work properly and you will rank.
International SEO – tap into affluent markets
As we touched on earlier, high net worth individuals were the focus. These people could be anywhere, though there are certain countries and cities where they are more commonly found and had proven to be happy to travel from. This included the UAE, Saudi Arabia, the UK, Italy and Russia.
Using our international SEO knowledge and experience, we were able to plan out how we would target these countries. This meant the use of 'hreflang' and translated versions of pages for certain languages.
Keyword movement
Once the new website launched with many of the proposed SEO changes in place, there was a clear ranking uplift. Below are some examples.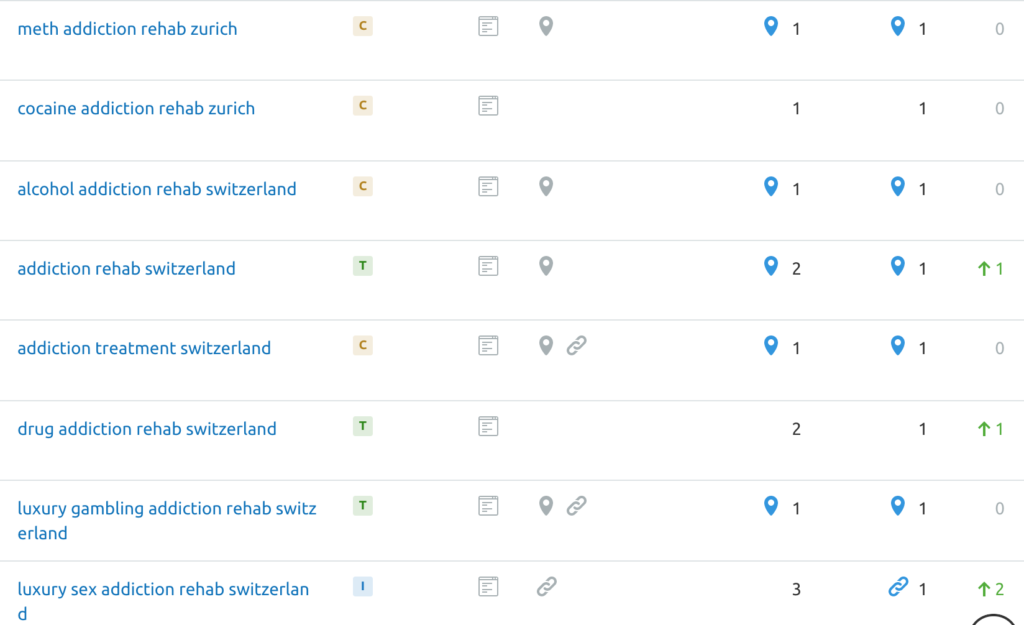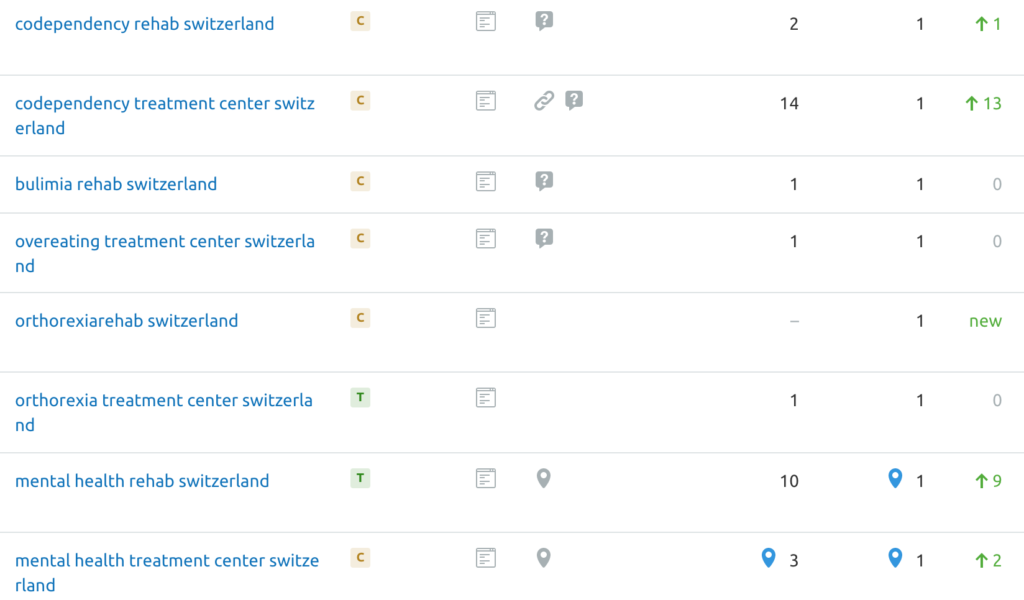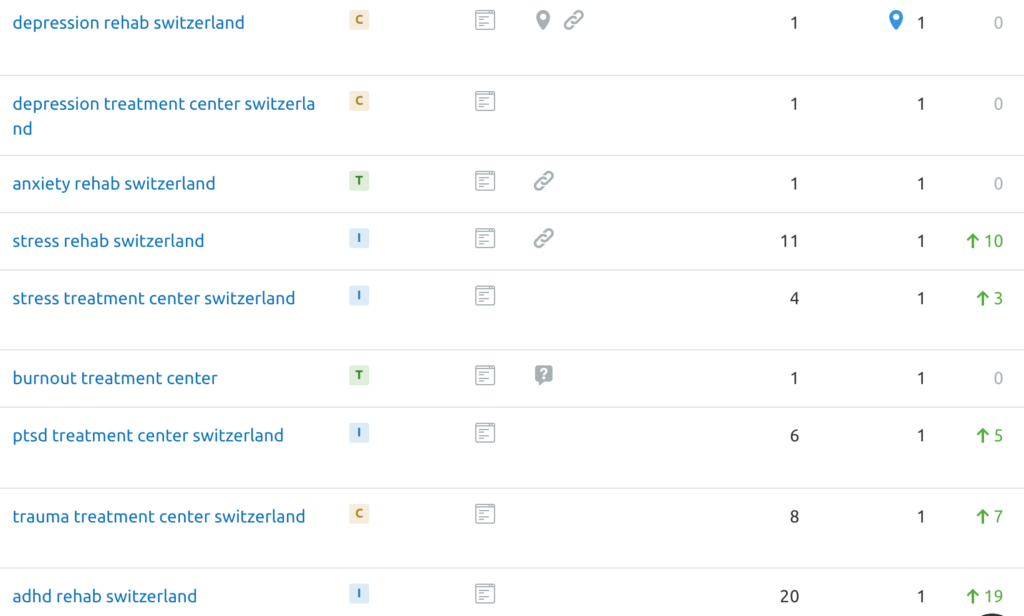 This only represents a tiny portion of the total keyword rankings and is only showing those terms ranking at number 1.
It is important to note that we no longer work with this client and cannot control the future performance of the SEO.