ReadingWise SEO Case Study
In May 2014 ReadingWise approached us for SEO and digital marketing. ReadingWise is a literacy intervention aiming to close the gap on the 20% of children who come out of secondary school illiterate. Their literacy programme has been in the making for such a long time that when the branding came together and the start-up formed, their online presence and website performance had to be perfect. It is always a pleasure to align yourself with companies that have such a strong and positive purpose, so we were very pleased to get involved.
One of the key things that had to be right in this arrangement is a strong relationship between the SEO team and the PR team. The CEO of ReadingWise understood how important it is for the two teams to gel and only enhance each other's work, rather than get in each others way.
By April 2014, 4 months had passed and it was clear the site needed the SEO and PR team to get on board.
Below is a snapshot of organic traffic from just before SEO began (orange), compared to (blue) organic traffic during the SEO (8 months on).
So far we have helped grow the organic traffic by

679%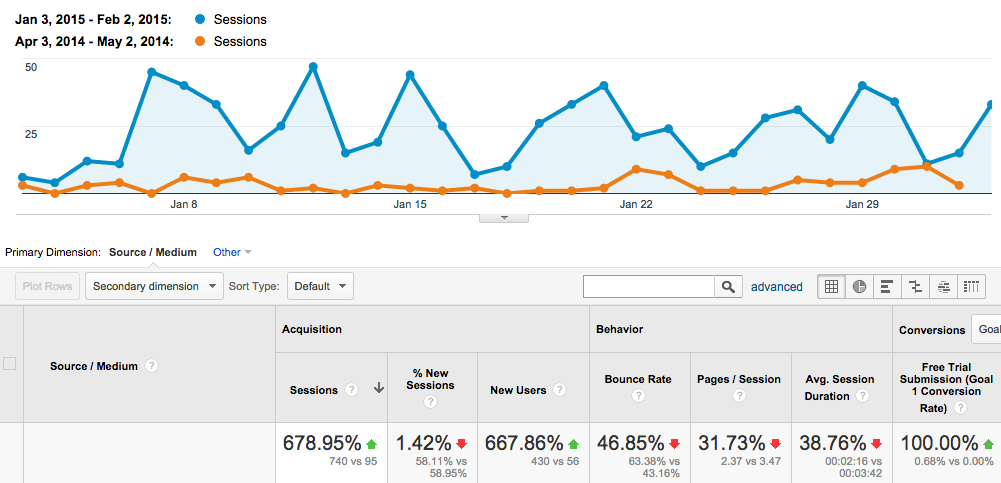 We are very aware that the search volumes in this niche are not enormous, however we are quickly getting page 1 rankings in Google.co.uk for some of the top priority keywords. These rankings are reflected in the organic traffic growth we have seen so far.

So how did all of this happen?
ReadingWise have been benefitting from a range of services including:
Technical SEO audits carried out periodically to address any issues that may be causing the site to not reach its optimum organic performance. Audits also aim to protect the site from the negative impact of Google updates such as the Panda algorithm.
Competitor Analysis designed to find the winning strategies of the top-ranking competitors.
Content audit to get the maximum impact from each and every post, whilst considering the dynamic of the site as whole and onsite SEO. Discover onsite content opportunities and content marketing opportunities based on ongoing competitor analysis.
SEO to PR consulting to ensure the PR activity is carried out in such a way that the site reaps massive SEO benefits and does not run the risk of penalisations caused through lack of SEO knowledge. Discover the referral sources with the highest quality of traffic to fine-tune link building work carried out by PR. This work also highlights the type of content publishers wish to link to, which greater informs the client and their onsite strategy.
Onsite SEO consulting and maintenance to competitively rank pages in Google.co.uk. This entails both onsite content and meta data tweaks aimed to keep the site evolving as Google grows as a search engine.
Offsite SEO aimed to manage the backlink profile for ReadingWise so that the site only has the best backlink practises in place and does not run the risk of Penguin penalities. This work also entails discovering links that are being wasted through not targeting a live page on the site.
Information Architecture SEO – to see how top-ranking competitors have made use of site architecture to perform better organically.