Who is this article for
This article is designed for any business owner who is concerned about their website traffic and believes they may have been negatively impacted by the new Google Penguin 4.0 Real Time Update.
If you have noticed a sudden drop in enquiries or sales through your website, then the first place to go is your Google Analytics account. This data can explain the difference between things just naturally being slower, or a more serious issue with your organic (Google) traffic.
You should also have been tracking your keywords positions, either nationally or regionally and be able to see if there has been a sudden change. One of the most popular tools for this is SEMrush and their keyword tracking function. This tool will give you a daily refresh on your ranking positions for the keywords you have set to be tracked. If you have not worked with an SEO consultant before you are unlikely to have this information. So you can head here (www.semrush.com) and enter in your website address to see just 10 of your keyword positions for free. It will show you a current position and then a position in brackets, which was its previous position.
Penguin Real Time Update
Google has an algorithm called 'Penguin' which historically has been designed to find websites which are acquiring bad links as a method of improving their rankings. Websites found to be doing this would be 'hit' by the algorithm and lose a large portion of their Google traffic. On the 23rd of September 2016 Google announced that the way this algorithm works has changed. Penguin used to sporadically (and rarely) be updated, meaning that websites would either be 'hit' by the update and lose their Google traffic in a matter of days or be 'released' by the update and regain their traffic, if they had been hit by the previous update. Essentially, you would have to wait until the next update, before you could be in for a chance to get your Google traffic back. Prior to this update on September 23rd 2016, it was October 17th 2014 that the last Penguin update rolled out. This has meant that the 23rd of September could be a very happy day for some businesses or a very bad one. This new update means there is no waiting time for the next update. Instead, the algorithm is acting in real time and losses of traffic due to Penguin will happen throughout the year instead of all at once.
Google Analytics – finding organic traffic only
Once you are logged in to your Google analytics account, it is time to hone in on the Google traffic exclusively. The reason for this is that Google traffic can be volatile and it is this traffic which can dramatically change depending on your online activity, including what links you have pointing to your website.
To find this traffic source you go to 'Acquisition' on the left hand side and then Source/Medium and then finally click the Google / Organic option to the right.


Once here, you will see the past 30 days of Google traffic. If you delayed investigating this situation and have felt the drop off in leads or sales for a while, you can expand the date in the top right hand corner to pin point if it has/when it declined.
You can then dig deeper and see which pages have been impacted (in terms of them acting as an entrance point for a Google searcher). To do this you go to the Secondary Dimension box and type 'landing'.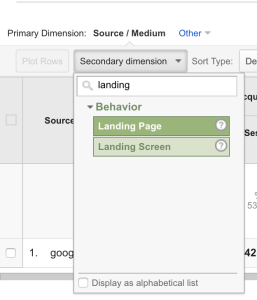 You now want to be able to compare the amount of Google traffic coming to each landing page, so you go back to the top right and click the box 'compare to' and select 'previous period'.

Now you can see which pages have taken a dive or if in actual fact it is just an overall decrease on a less dramatic level (up to 20% loss).
Pages which have been hit by the new Google Penguin 4.0 Real Time update will have a significant drop off in organic traffic. Anything from 40% or more less traffic. It is worth baring in mind that the higher numbers you are working with, the better you can diagnose the situation. For example, a page which had 10 organic visits in 30 days and now has 5 is really quite hard to diagnose as 'hit by Penguin 4.0 Real Time'.
Keyword Rankings – Getting Granular
If you are fortunate enough to have been tracking your keywords in a tool such as SEMrush or AWR , then you can compare keyword rankings and investigate which keywords have taken a sudden drop in their position. Due to the new nature of 'Penguin 4.0 Real Time', websites can be impacted on a granular basis, meaning certain keywords could be impacted and others may be fine. This can leave room for harder diagnosis on if this is a site which has been hit by Penguin 4.0 Real-Time, because it is not uncommon for websites to lose a 'big money keyword' for a period of time or to move just handful of positions from its powerful, former position.
Sometimes being just a few positions lower, which is no form of algorithm hit can have a massive impact on your traffic, leads and sales. If you find that a couple of your keywords have just slipped out of the top spots, then don't panic. This can be for so many reasons, from your competitors simply doing better SEO strategies than you, to something as simple as a recent redesign or revamp of the website has led to popular metadata and content being reassessed and not as good, in the eyes of Google. I have seen many redesigns happen where rankings are lost on relaunch due to the developers not retaining the exact metadata the website had prior to relaunch.
What to do if you have been hit
It may sound weird to say this is not the worst news you can get, but its true. If you have been hit around late September/October 2016 time then you can repair the situation and possibly repair in real-time, rather than waiting 2 years (if you know how to repair). You may get hit at any point after September 23rd 2016 and you can now actively work to get your rankings back without waiting for Penguin to refresh in one or two years time.
As an SEO consultant, the first thing I would recommend is having a professional SEO diagnose the loss of traffic and verify your findings. If your loss of traffic is diagnosed as a Penguin hit then you need to be realistic about the costs associated with repairing the situation. Essentially, the more links you have acquired means the lengthier the process will be.
You need to have a backlink audit carried out. This entails having every backlink analysed manually and classified if they are a good or bad link. Your SEO can perform a 'Disavow' – a file submitted to Google via your Google Search Console, listing which links you do not want to associate with. If the links are targeting particular pages, you could delete the pages and re-write them  (with brand new content) and most importantly not redirect the old url to the new version. Doing this stops the bad link dead in its tracks.
If your SEO believes the links could have great potential but for example you have used a anchor text too much, he or she can implement an outreach campaign to get links amended.
Once your SEO is happy with the management of the existing links, then you need to get new, better links to fill the void of lost links your website has just experienced.