SEO for Removal Companies
In early spring 2016 a local removal company owner approached me about his need to get more business through Google with the help of SEO. His vision of attracting business from a wide selection of towns surrounding Brighton sounded very achievable. He was spending on Google Adwords and eventually wanted to move away from this due to the costs of the clicks and the consultant managing the account.
Results after first 4 months of SEO
By comparing March 2016 when I began SEO to June 2016, the following results were achieved.
This is a 50% increase in Google organic traffic for the client

Some of the key pages receiving Google traffic grew considerably in the first 4 months, as shown below.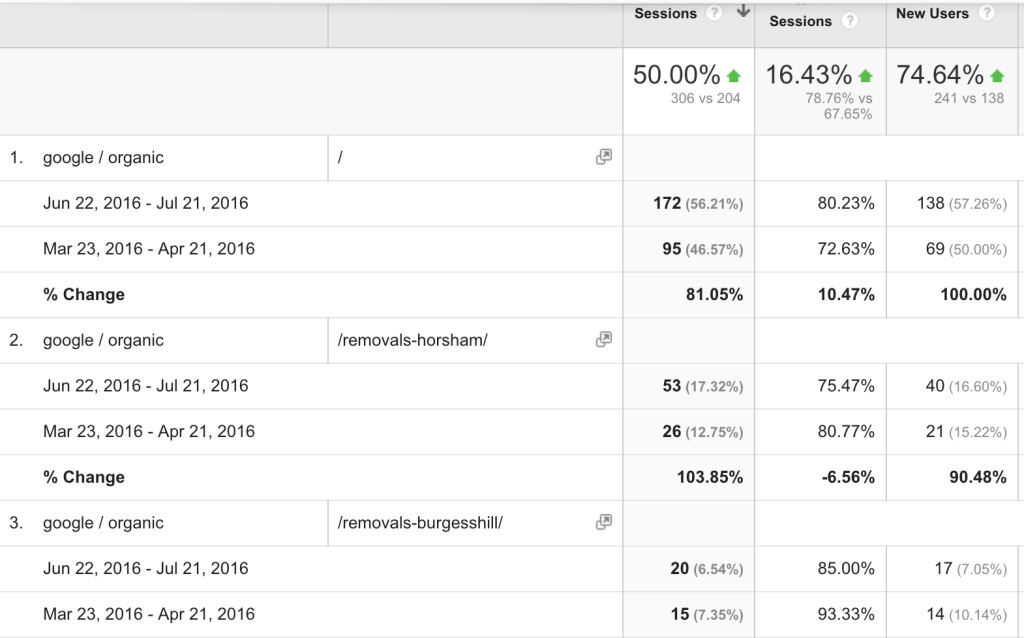 Just a few of the ranking improvements seen in this period.

How did I get this removal company to rank so well?
I began by first gauging how his site was currently performing in Google and soon learnt that it was performing ok, but was at risk. His previous SEO provider had performed some very risky, outdated strategies which meant the website was treading on egg shells with Google. With fears that the site could be penalised, I was eager to action quickly.
Backlink Analysis
On discovering a mass of dangerous links pointing to my client's site, I had to address the issue fast. Due to the nature of the link building carried out (horrendous blackhat methods known as 'web 2.0 links') I knew we would have no joy in asking the webmasters' of the linking sites to remove the links. I discovered that 90% of the links were pointing to pages that had been created with the sole purpose of being linked to and didn't benefit the visitors. These pages had no organic traffic and so by removing the pages, my client wouldn't feel a sudden drop in enquiries. I left the pages as 404 pages (meaning they are now dead/empty pages and don't redirect to another page on the site) so that the bad link juice can't pass into the site.
Deleting location pages
Once the dangerous links were under control, it was time to move onto the content and perform a content audit. This uncovered a mass of pages targeting little areas surrounding Brighton. If done correctly this approach can work well for removal companies. When researching into the number of searches carried out for a given keyword such as 'removals hartfield' it became apparent that many pages would never receive traffic, even if they rank at the top. By 'noindexing' these pages (making sure Google doesnt put them in the search engine) we reduced the number of locations the website targets. In doing this you concentrate your efforts, and in this case it reduced errors because the content on these pages was very poor.
This left us with pages which could all receive traffic because of the demand in any given locations we were targeting.
Keyword targeting
Next was keyword targeting – ensuring each page targeted the ideal keywords to match the page. To do this I used specialist tools to find out the number of people searching a given keyword per month. I then optimised each page so it clearly targets it's keywords, without compromising the page and coming across as being written for computers instead of humans.
Re-writing location pages
Most of the pages were badly written and were nearly identical to each other,  aside for the name of the location being different in sentences. By studying the top-ranking competitors, I was able to craft superior content that served a purpose and pleased Google at the same time.
Link building for removal companies
As the website had very few backlinks left after the initial cull, I needed to build some safe and trusted links to replace them. I started with the basics – trusted directories, which allowed me to consistently state the business name, address, phone number and website address. For a local company, this is an integral part of SEO and improves rankings. By studying the top-ranking competitor's links, I was able to replicate the best ones and secure these quickly for the client.